Iraq
Nearly 30 killed in Iraq attacks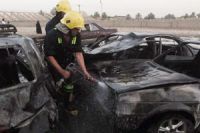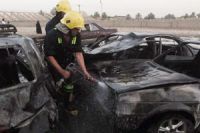 Nearly 30 people have been killed and scores of others wounded in a wave of attacks in and around the Iraqi capital, Baghdad.
According to AFP, on Thursday, at least 10 people, including children, lost their lives and 25 others suffered injuries after a car bomb detonated near a group of pilgrims in the city's northeastern district of Ur.
In a similar car bomb attack in Baghdad's western district of Mansour, nine people were killed and 26 others were wounded.
Five more people were killed and 18 others injured in a bomb attack in central Baghdad.
Elsewhere, in the town of Mishahda, situated 30 kilometers north of Baghdad, three civilians and two policemen were killed and 11 people were injured after an explosive-laden car exploded at a checkpoint.
Iraq is currently witnessing a wave of violence unprecedented in recent years.
Official figures show that more than 1,000 people, mostly civilians, were killed and nearly 1,400 others injured in violent attacks across Iraq in April. According to the United Nations, almost 9,000 people were killed in 2013.