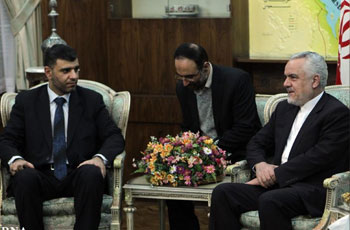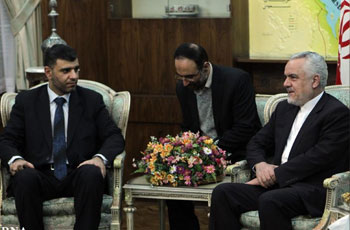 Islamic Republic of Iran's First Vice President Mohammad-Reza Rahimi said here Wednesday Iranian and Iraqi officials should try to lift obstacles in way of implementing agreements on cooperation in house construction field.
The IRI Presidential Office information website reported that the VP made the comment in a meeting with the visiting Iraqi Housing and Development Minister Muhammad Sahib ad-Durraji Wednesday night.
According to the report, Rahimi in the meeting said that expansion of construction work and the people's ownership of houses, particularly for the low income group, are the necessities for social welfare, and the people's satisfaction."
Further focusing on the point, he added, "In Dr. Ahmadinejad's government by launching the Maskan-e Mehr Project the welfare index of the middle class group improved and this can be a model for many other countries."
Rahimi expressed hope that the Iraqi Muslims nation would as soon as possible manage to restore full peace and stability in their country, and achieve a good level of social and economic welfare.
The Iraqi Housing and Development Minister ad-Dorraji, too, in the meeting announced his country's comprehensive readiness for implementation of the two countries' reached agreements, adding, "Iraq would do its best to expand cooperation with the Islamic Republic of Iran and for fully implementing the reached agreements.
Referring to the shared religious interests and beliefs of the two countries he asked for increasing the level of bilateral economic and commercial ties, adding, "The ground is fully paved for cooperation and improvement of level of cooperation with Iran to the highest possible level.
Iran plays an important role in the Iraqi reconstruction. Iran's non-oil exports to Iraq were valued at $1.8 billion in 2007 and $2.3 billion in 2008. Each month, more than 40,000 Iranians visit Shi'a holy sites such as Najaf and Karbala, buying religious souvenirs and supporting the economy through tourism. Iraq imports cars, construction materials, medicine, fruits and spices, fish, air conditioners, office furniture, carpets and apparel from Iran.
Basra alone imports $45 million of goods from Iran each year, including carpets, construction materials, fish and spices. Each day, 100 to 150 commercial trucks transport goods from Iran to Iraq through the nearby Shalamcheh Border crossing. As of January 2010, the two countries have signed over 100 economic and cooperatioAn agreements. The volume of trade between Iran and Iraq is expected to double from $4 billion in 2009 to $8 billion in 2010. The main areas of trade between the two countries are the construction, food and industrial sectors.