Asia-Pacific
Nepal earthquake death toll hits 4,138, Interior Ministry says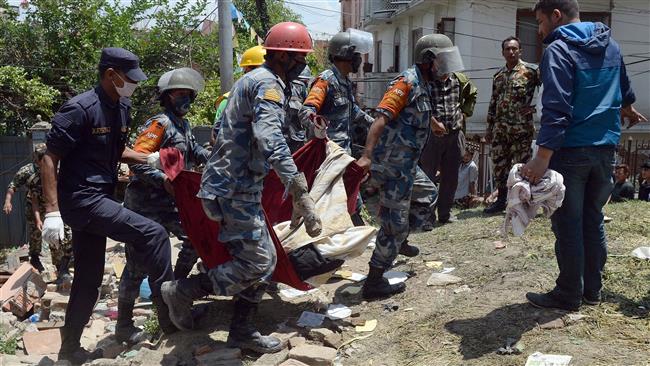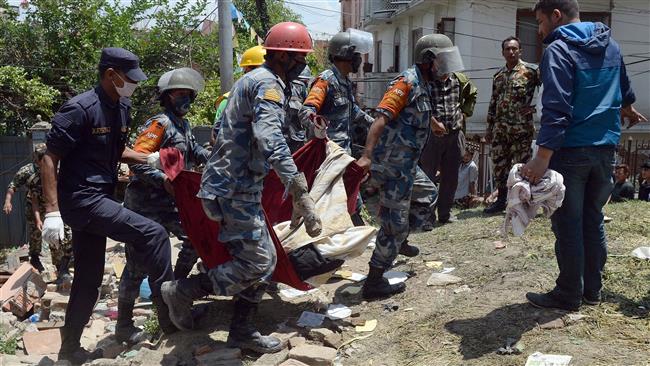 The death toll from a devastating earthquake that shook the impoverished South Asian country of Nepal has exceeded 4,100.
According to Nepal 1 television station citing the country's Interior Ministry on Monday, the death toll from this weekend's earthquake currently stands at 4,138.
Meanwhile, the UN World Food Program is gearing up for a large-scale aid operation in Nepal as the Asian country reels from its deadliest earthquake in decades.
On Monday, the WFP said its first aircraft transporting food was expected to arrive in Nepal on April 28 to help out survivors of the 7.8-magnitude earthquake of April 25.
"This will be a large, massive operation," said the WFP spokeswoman, Elisabeth Byrs, adding that the food supplies would most likely have to be airlifted on account of the massive road destruction.
The UN is expected to launch an emergency appeal for humanitarian aid for the region.
The WFP announcement comes a day after its experts arrived in the capital, Kathmandu, to evaluate the situation and to estimate shelter and medical equipment needed.
About 40,000 people have been injured and are currently in need of assistance.
Earlier in the day, the World Health Organization said it had already distributed medical supplies for those injured.
The UN Children's Fund (UNICEF) has also announced that it is mobilizing staff and sending two cargo flights with 120 tons of humanitarian supplies to the area.
Meanwhile, France says two of its nationals lost their lives in the earthquake, Nepal's deadliest disaster in more than 80 years.
Some 90 people were also killed in neighboring countries, including at least 67 in India and 20 in China, as the earthquake also caused damage in those countries.
Authorities say there have been almost 100 aftershocks since.
Nearly 20 mountain climbers, who had gathered on Nepal's Mount Everest at the start of the climbing season, also lost their lives in an avalanche triggered by the jolt.