Palestine
Netanyahu Reassures Jordan's Abdullah over Al-Aqsa "Status Quo"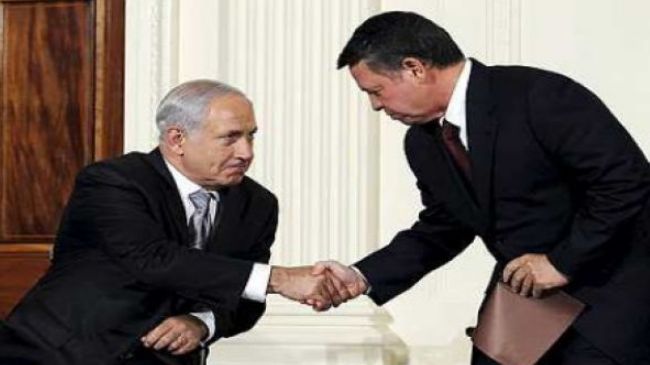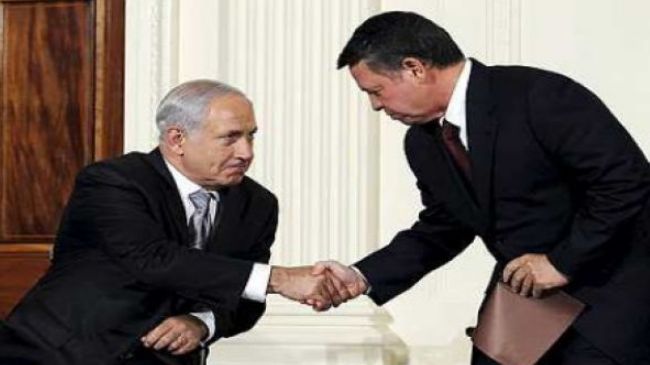 Israeli Prime Minister Benjamin Netanyahu spoke with by phone with Jordan's King Abdullah II to reassure him that he would not allow Jews to pray at the al-Aqsa Mosque.
"I spoke today to King Abdullah of Jordan and we agreed that we will make every effort to calm the situation," Netanyahu said.Netanyahu and Abdullah II
"I explained to him that we're keeping the status quo on the Temple Mount and that this includes Jordan's traditional role there," he said, using Israel's name for the holy mosque.
Under the current status quo, Jews are permitted to visit the esplanade but not to pray there for fear it would cause friction at the third holiest site for Muslims.
King Abdullah "recalled that Jordan firmly rejected any measure undermining the sanctity of the Al-Aqsa mosque", a palace statement said.
Jordan's status as custodian of the Al-Aqsa mosque compound and other Muslim holy sites in annexed east Jerusalem is enshrined in the 1994 peace treaty between the two countries.
Concerns that Israel was set to legislate changes to the status quo have sparked weeks of unrest at the site, with Zionist extremists have been staging marches in which they call for praying in al-Aqsa Mosque.
Jordan, Palestine Complaint to UNSC over Israeli Violations
Earlier on Wednesday, Palestinians and Jordanians have urged the UN Security Council to demand that Israel immediately stop provocations and incitement against Muslim holy sites in al-Quds, warning that further escalation could lead to another crisis threatening peace in the Middle East.
Palestinian UN Ambassador Riyad Mansour said the "actions blatantly intended to assert Israeli control over the Mosque continue unabated'.'
Mansour said in a letter to the Security Council that stun grenades and rubber-coated bullets were fired early on Wednesday at Palestinian worshippers in the Al-Aqsa Mosque, seriously injuring at least 30 people.
Jordan's UN Ambassador Dina Kawar said in a separate letter to the council that Israeli special forces and police prohibited Muslim worshippers from entering and allowed religious and political extremists inside the holy mosque.
"This blatant and unlawful use of force against one of the holiest sites on earth for Muslims have resulted in fires breaking out, damage to mosaic works on ceilings and to the structure of the building, burning of the carpets and rugs and damage to other facilities," she said.
Hezbollah Secretary General Sayyed Hasan Nasrallah earlier on Tuesday warned against the Israeli agression and juddaization in the holy city of al-Quds.
During his speech on the tenth day of Muharram, the Lebanese resistance leader urged both Arab and Muslim nation to stand by the Palestinian people and save al-Aqsa Mosque which "is in real danger."