Palestine
Netanyahu's visit to Britain proves its support of terrorism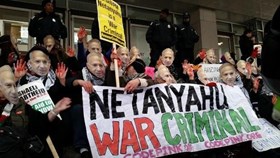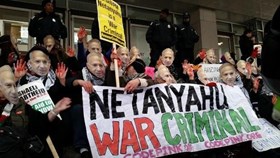 Media and relations official in the Palestinian Forum in Britain Zaher Birawi said Netanyahu's visit to Britain sends a message to Palestinians that Cameron's government supports the terrorism of the Israeli occupation.
Zaher Birawi said Israel is continuing its occupation of Palestinian territories and settlement construction in addition to the Separation Wall and aggressions on Gaza which all breach the international law.
He underlined that Britain's support for Israel ruins the reputation of the country and enhances terrorism in the Middle East and the world.
Birawi urged David Cameron's government to stop supplying Israel with weapons and to oblige Netanyahu to stop settlement construction and Judaization procedures in Occupied Jerusalem as well as to end apartheid policy practices against Jerusalemite people.
The Palestinian Forum in Britain organized a massive sit-in before the British government office in London in protest against the visit of Israeli Prime Minister Benjamin Netanyahu to Britain.
It is expected that sit-inners will hand a letter of protest to the presidency of the government.
107,000 Britons signed a petition refusing Netanyahu's visit to London on Wednesday, September 09, and demanding his arrest as a war criminal.