Syria
New battle map of Syrian War: October 2018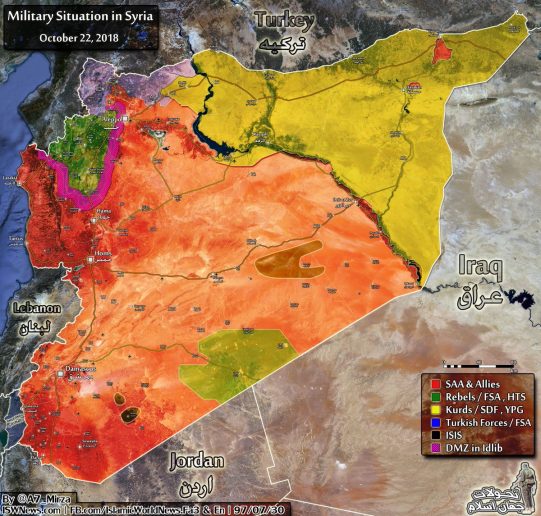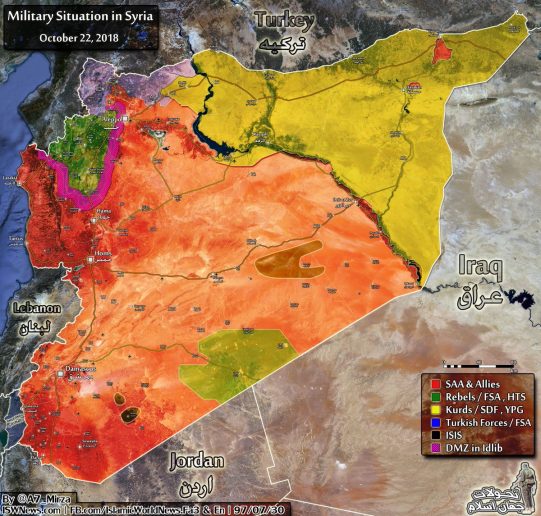 The Syrian War is now in its seventh year and while most of the country is back under the government's control, several areas still remain under the authority of the opposition, Kurdish, and Islamic State (ISIS/ISIL/IS/Daesh) forces.
Over the last two months, the ground situation in Syria has remained relatively the same, with only some minor changes inside the Islamic State's pockets in the Al-Sweida and Deir Ezzor provinces.
The lack of ground movement in Syria is due in large part to the September 17th Sochi Agreement between the Russian and Turkish governments.
This agreement ultimately froze the front-lines between the Syrian Arab Army (SAA) and opposition forces in the Aleppo, Hama, Idlib, and Latakia governorates.
Moreover, the government's recapture of the Al-Quneitra, Dara'a, Qalamoun and East Ghouta regions this past Summer has ended several battles and allowed peace to reign over these areas for the first time since the genesis of this conflict.
However, this Pax Syriana is not likely to last for much longer, as the situation inside the designated buffer zone collapses due the refusal of jihadist groups to leave this area.
Making matters worse, Turkish President Recep Tayyip Erdogan has repeatedly warned of a pending invasion by his forces in northern Syria.
The Turkish Army and their rebel allies are expected to launch a new operation against the Kurdish-led People's Protection Units (YPG) in the coming months, as Ankara looks to seal the Syrian border with groups allied to them.