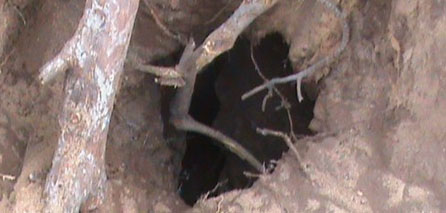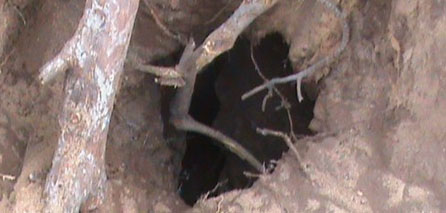 The Aqsa Foundation for Endowments and Heritage reported in its report published on Sunday November 14, a collapse in the ground of the Aqsa Mosque revealing a hole of unknown depth near the tree that fell in the mosque area a week back.
The foundation in a statement it released Sunday called for an investigation into the recurring incidents of collapse around the Aqsa Mosque and the cause of cracks which have appeared in the mosque and adjacent structures.
"All evidence shows the existence of holes dug by the Israeli occupation below and around the Aqsa Mosque."
The foundation documented the incident in photos and video on Saturday, but delayed publishing to conduct further testing and ascertain data.
A team visited the mosque Saturday for an additional ground inspection on the site of the old tree that fell last week when inspectors noticed six meters away from the tree a cavity covered with newspapers on top a number of short branch remains appearing to be remnants of the fallen tree. Beneath it was a suspicious concrete stone that lay slanted.
Investigators found near the site a 50 sq. cm wide hole, but they were unable to identify how deep the hole actually was.
The inspection team proposed that recurred incidents of collapse and decay in the mosque suggested that Israeli forces have been digging below the holy site.
Within the past two years the foundation discovered collapses in the floor of the Aqsa Mosque, a massive tree which fell near the Qattanein Gate, cracks on the buildings near the tree, holes dug up by Israeli planners below the Mutahhara area located on the western border of the mosque, cracks in the Marwani building, cracks in the building above a gate in the northern part of the mosque, and excavations in the western and southern parts of the mosque.