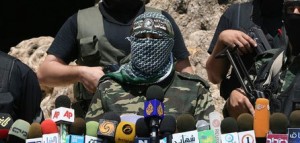 The military wing of the Islamic Resistance Movement has warned that crippling strikes are awaiting Israel Defense Forces (IDF) should they encroach into blockaded Gaza Strip again.
"Victory will be on our side, and any large-scale aggression on the [Gaza] Strip will definitely end in absolute failure," spokesman for Ezzedeen Al-Kasam Brigades, Abu Obaida, said on Tuesday.
He also stressed the need for a political power that advocates resistance, adding that the Brigades would not give up their armed resistance as long as the Israeli occupation of the Palestinian lands persists.
On Tuesday, Ayatollah Seyyed Ali Khamenei, the Leader of the Islamic Revolution, called to mind the plight of the people of Gaza during a deadly Israeli assault in December 2008-January 2009 and warned Israel against waging another war in the impoverished coastal enclave.
"If the Israeli regime launches another war against the people of Gaza, they will receive a much heavier blow and suffer a more crushing defeat than before," Ayatollah Khamenei said in Tehran during a meeting with visiting head of Damascus-based Hamas political bureau, Khaled Meshaal.
The Leader also leveled criticism at the Arab states for their failure to throw weight behind the Palestinian cause, and said, "Certain Arab states are major causes for grave concern given that they portray themselves as Muslims whilst being disloyal to the Palestinian nation."
Ayatollah Khamenei further underlined the magnitude of resistance as the only promising solution to the Palestinian crisis.
Israel's three-week offensive against Gaza left nearly 1,500 Palestinians dead, more than half of them civilians.
The Israeli assault led to the destruction of schools, mosques, houses as well as the UN compounds. Operation Cast Lead also inflicted $1.6 billion damage on the Gaza economy.