Syria
New mass grave discovered in eastern Syria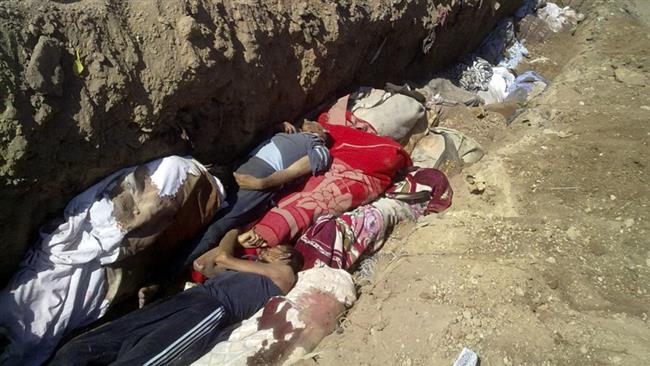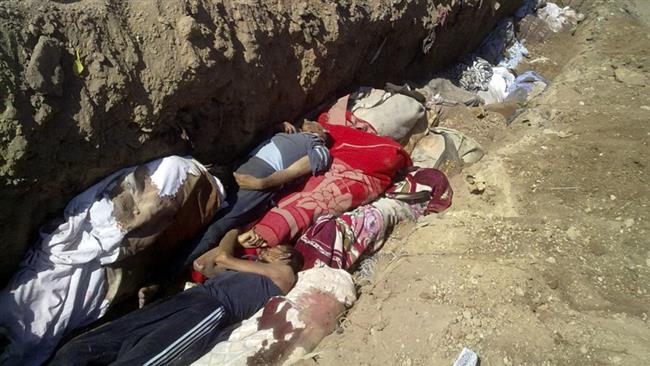 Security authorities in Syria say locals have found a new mass grave in the country's embattled eastern province of Dayr al-Zawr, which is believed to be containing the remains of tens of people executed by Takfiri Daesh terrorists.
The residents uncovered the grave on the outskirts of Marat Village, located more than 450 kilometers (280 miles) northeast of the capital, Damascus, on Sunday, Syria's official news agency SANA reported.
The source said that the mass grave is thought to contain the remains of more than 100 civilians, among them children, who were killed by Daesh when Marat fell several months ago.
Three mass graves had been found in the village of Abu Hamam in the same Syrian province a month ago.
"The dead bodies found in the mass graves are believed to belong to members of the Shaitat tribe, who were massacred by Daesh terrorists," a Syrian lawyer said back then.
Daesh extremists had earlier executed more than 700 members of the Shaitat tribe in Dayr al-Zawr over opposition to the terrorist group's control over the province. Several mass graves have been discovered in the eastern Syrian province over the past few months, most of the victims were identified as members of the al-Shaitat tribe.