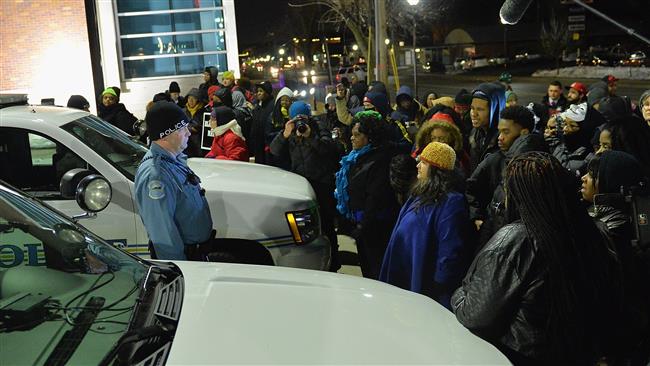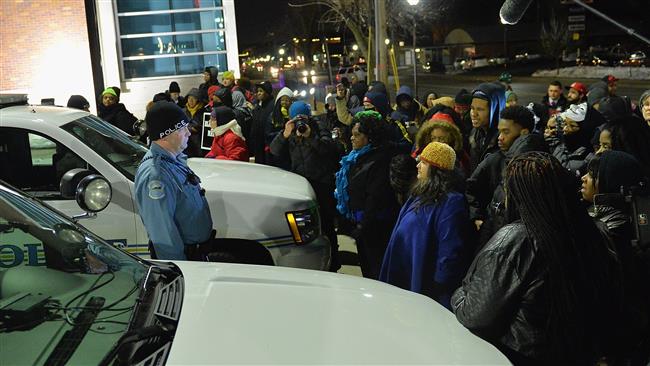 About 50 protesters have gathered in front of the police department in Ferguson, Missouri to condemn a discriminatory ruling by the US government in favor of a white police officer who fatally shot a black teen last summer.
At least four female protesters were arrested outside the police headquarters on Wednesday following the release of a probe by the US Justice Department clearing former police officer Darren Wilson in the fatal shooting of 18-year-old Michael Brown in August.
The protesters held banners, reading "Confront White Supremacy" and "Stop Racial Profiling."
They formed a human chain in a symbolic move to show solidarity with minorities who face injustice across the US.
The arrests come just hours after US Attorney General Eric Holder unveiled a report that found widespread and systemic racial bias in Ferguson's criminal justice system, but also concluded that Wilson violated no federal laws.
"Seen in this context — amid a highly toxic environment, defined by mistrust and resentment, stoked by years of bad feelings, and spurred by illegal and misguided practices — it is not difficult to imagine how a single tragic incident set off the city of Ferguson like a powder keg," Holder said.
The police killing of Brown and several other unarmed African-American men during the past summer sparked a national debate on race and led to months of street protests across the country over police harassment and mistreatment of minorities.