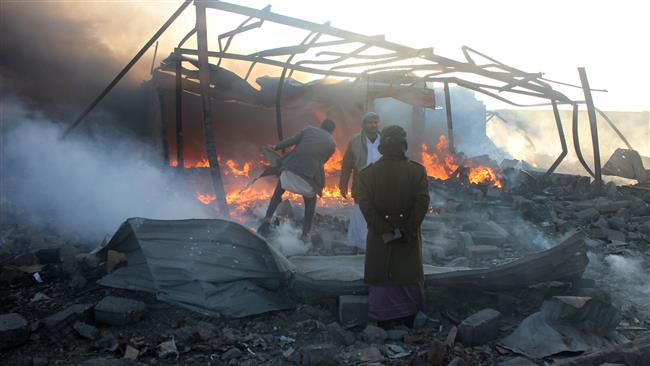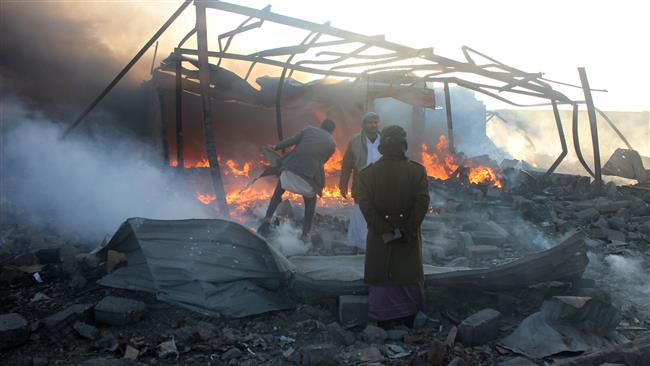 At least a dozen more civilians have lost their lives when Saudi fighter jets carried out an airstrike in an area of Yemen's southwestern province of Ta'izz as the Riyadh regime presses ahead with its devastating aerial bombardment campaign against its conflict-plagued southern neighbor.
Local source, speaking on condition of anonymity, told Arabic-language al-Masirah television network that the victims were killed as Saudi military aircraft targeted trucks loaded with coal travelling along a road linking al-Najibiyah district and Hays region in the neighboring coastal province of al-Hudaydah on Tuesday afternoon.
The development came on the same day that Yemeni army forces and allied fighters from Popular Committees launched a barrage of artillery rounds at a gathering of Saudi-backed militiamen loyal to Yemen's resigned president, Abd Rabbuh Mansur Hadi in the city of Sirwah, which lies about 120 kilometers (75 miles) east of the capital Sana'a, leaving scores of them killed and injured.
In the As Silw district of Ta'izz province, several Saudi mercenaries were killed and wounded when an explosive device went off in their position.
Yemeni soldiers and their allies also fired a number of artillery rounds at Saudi troops in the al-Ghawiyah military base of Saudi Arabia's Jizan region, located 969 kilometers south of the capital Riyadh.