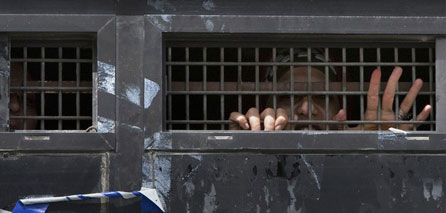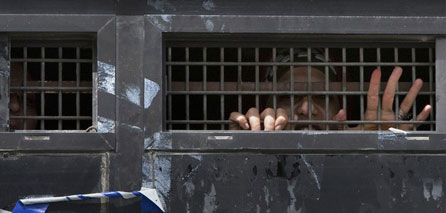 The Israeli prisons authority (IPA) has been coming up with creative new ways to torment and break the spirits of Palestinian prisoners in Israeli jails, the supreme national committee for supporting prisoners said Sunday in a press statement.
The committee's general coordinator Baha'a al-Madhoun said there has recently been a marked increase in confiscation of electrical appliances, especially privately-owned fans, despite the intense heat of Israeli jails during the summer.
According to al-Madhoun, the IPA deliberately exercises these policies under false pretenses, especially in the Nafha, Negev, and Beer Sheba prisons, which are home to more than half of Palestine's prisoners, noting that the prisons are located in desert locations known for extremely hot weather, especially in the cells which are below ground level.
Prisoners have also reportedly suffered breathing difficulties because of lack of air in the cells.
Conditions are expected to become increasingly tough during Ramadan, when prisoners will refrain from water, which helps them to escape the heat.
The IPA confiscated 6 fans in the Jilboa prison, as well as a number of fans in the Nafha prison, refusing to replace the old, broken ones. The administration has refused to allow new fans into the women's section of the Damon prison, which contains only one fan in each room, and has banned the prisoners from buying fans from canteen. Purchase of fans was also prohibited in the Beer Sheba prison, despite the shortage of fans in many of its sections.
The prison administration often threatens to confiscate fans from the rooms and cells if protest steps are taken against the administration's arbitrary policies, adding that confiscation of fans has become the administration's sure weapon against prisoners who demand any of their rights.
The commission called on human rights institutions and the Red Cross to pressure Israel to stop this policy and allow a sufficient number of fans into the prisons to save prisoners from the extreme heat of the summer.