North America
New York Times employees stage first mass strike in 40 years over wage dispute
Hundreds of journalists and other employees at The New York Times have walked off their job for 24 hours in what has been described as the first strike of its kind at the prominent US-based newspaper in more than 40 years.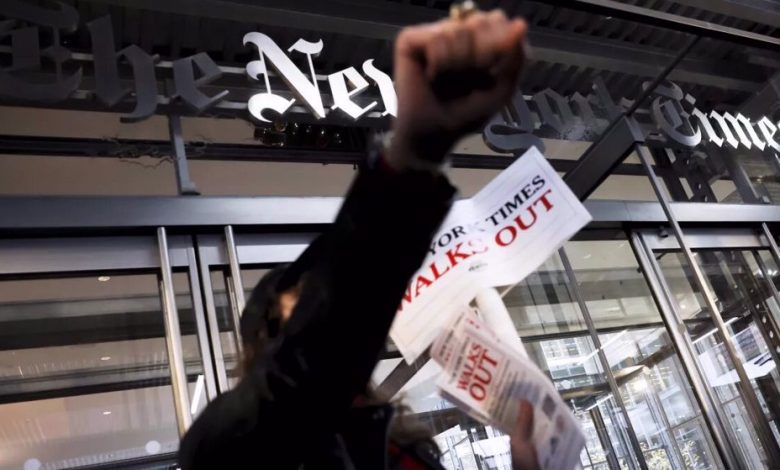 Workers including reporters, editors, photographers, and other employees took to the street outside the newspaper's office near Manhattan's Times Square on Thursday holding placards that read "New York Times Walks Out" and "fair wages".
They complain about being fed up with bargaining that has dragged on since their last contract expired in March 2021.
The strike comes a week after the NewsGuild of New York, a union representing the striking workers, announced that more than 1,100 employees would stage a 24-hour work stoppage starting at 12:01 a.m. Thursday unless the two sides reach a contract deal.
Following negotiations on Tuesday and Wednesday, the two sides failed to reach a deal with the office management that broke off Wednesday evening, demanding a higher living wage, health and retirement benefits, as well as return-to-work policies.
On Wednesday evening the union said on Twitter that a deal had not been reached and the walkout was happening.
"We were ready to work for as long as it took to reach a fair deal, but management walked away from the table with five hours to go," it said. "We know what we are worth."
On Thursday morning, the union announced that workers "are now officially on work stoppage, the first of this scale at the company in 4 decades".
"It's never an easy decision to refuse to do work you love, but our members are willing to do what it takes to win a better newsroom for all," the statement said.
New York Times spokesperson Danielle Rhoades Ha said in a statement that they were still in negotiations when they were told about the strike.
"It is disappointing that they are taking such an extreme action when we are not at an impasse," she said.
Nick Confessore, a political correspondent with the New York Times, was quoted as saying by the Guardian that being on strike felt like being "in mourning".
"Our job is to cover the story. Today, I'm stepping back from my keyboard, because I feel that in order to build a New York Times that can serve our readers best in the future, we need a better deal with the people who are here," Confessore said.
"I'm not angry. I'm just deeply disappointed in our company," said Nikole Hannah Jones, a Pulitzer Prize-winning investigative journalist who spoke at the rally.
"You shouldn't have to struggle financially to work at a place like The New York Times, no matter what your position is."
The negotiations have dragged on for 20 months after their last contract expired in March 2021.
Stacy Cowley, a finance reporter and union representative, said the union is seeking 10 percent pay hike at ratification, which she said would make up for raises not received over the past two years.
However, Deputy Managing Editor Cliff Levy said the company has offered to raise wages by 5.5 percent and called the planned strike "puzzling" and "an unsettling moment in negotiations over a new contract.
After the walkout, Thursday's news coverage remained unclear, but Rhoades Ha said the company has "solid plans in place" to continue producing content, one of which is relying on international reporters and journalists who are not union members.
In a similar move, another walkout orchestrated by the NewsGuild of New York is the Gannett walkout on Friday, where more than 200 Gannett journalists are staging a day-long strike at 14 Gannett-owned newsrooms, as they demand better wages and benefits.
---