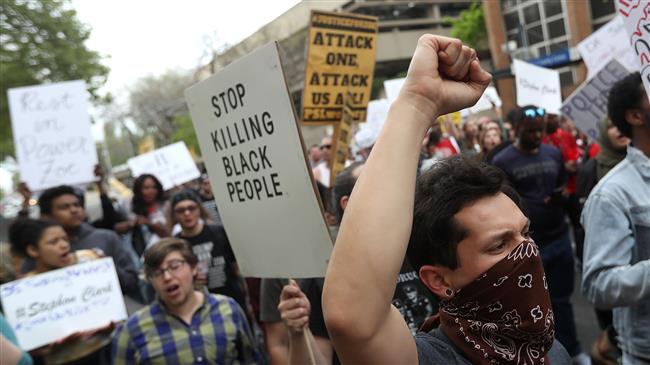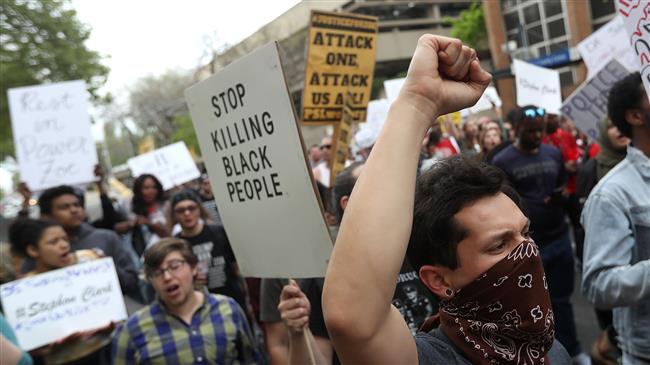 Hundreds of people have staged protests in New York City to protest the police killing of an unarmed African American. 
Protesters and activists gathered in the city's Brooklyn borough on Wednesday, shortly after NYPD officers shot dead a man who was holding a metal pipe in his hands.
The shooting occurred in Crown Heights, a predominantly black neighborhood in the heart of Brooklyn, and coincided with the 50th anniversary of Dr. Martin Luther King Jr.'s assassination.
"You murdered him," the protesters shouted at police officers who confronted them. Some protesters called NYPD officers "oppressors."
"I don't want to kill nobody, i just don't want to die," shouted some other protesters.
Terence Monahan, Chief of Department for the New York police, said the officers were responding to a report about a man holding an "object that appears to be a gun" at people on the street.
Four officers fired 10 shots at the man, whose name and age was not made public. He was pronounced dead at a hospital later.
New demonstrations against the fatal police shooting of Stephon Clark were held in Sacramento on Saturday.
The object the man was holding was not a gun, but rather "a pipe with some sort of knob on the end of it," Monahan said.
The shooting came less than three weeks after police in Sacramento, California killed 22-year-old Stephon Clark after firing some 20 rounds at him.
Police said then that they thought Clark had a gun in his hand but it turned out that it was an iPhone.
Anger over the March 18 shooting erupted into days of protest in the streets of downtown Sacramento, with marchers blocking traffic and clashing with police in riot gear.