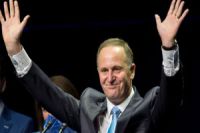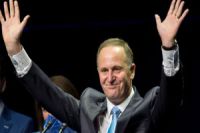 New Zealand's Prime Minister, John Key, has won an emphatic victory in the country's general elections, securing a third term in office.
According to Press TV, the leader of the center-right National Party told a cheering crowd in Auckland on Saturday "This is a great night. This is a victory for those who kept the faith."
He added "This is a victory for those who refused to be distracted and who knew that a vote for National Party was a vote for a brighter future for all New Zealanders."
With most ballots counted, the 53-year-old's party won 61 of 121 seats.
Meanwhile, opposition leader David Cunliffe accepted defeat, as he told the Labor Party's backers that they "will not be able to form a government."
He said "It is rare for any government to be defeated while surfing an economic rebound with around a 4 percent growth rate, even though the longer-term problems remain to be addressed,".
Cunliffe added that he would not be resigning despite the poor result.