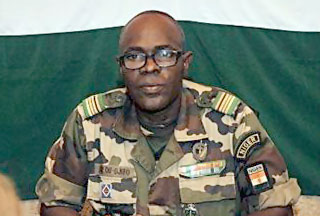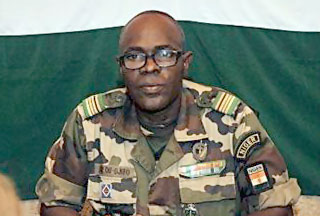 The leader of a military junta that toppled Niger's president last week has become the country's interim president with plans to draw up a new constitution.
A military decree on Monday said Major Salou Djibo, who heads the junta calling itself the Supreme Council for Restoration of Democracy (CSRD), will function as the acting head of state and government during the political transition.
The junta has also said that it would name a prime minister and government to help oversee the transition, whose duration was not specified.
The announcement came a day after the junta leaders promised a visiting international delegation a return to democracy and a new constitution. They said that they would engage political groups and the civil society in setting up the new constitution.
The delegation comprised of members of the United Nations, African Union and Economic Community of West African States (ECOWAS).
The authorities promised to establish a body which will draw up new electoral laws and a draft constitution for adoption through the ballot by voters of the uranium-rich, west African country.
Last Thursday, the army toppled President Mamadou Tandja who became unpopular ever since he changed the constitution in order to remain in power beyond a 10-year limit.