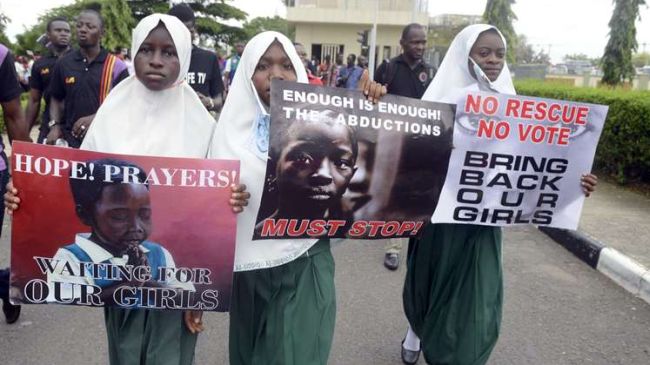 Nigeria's militant group Boko Haram has threatened to "sell" over two hundred schoolgirls it abducted in the northeastern state of Borno.
In a 57-minute video obtained by AFP on Monday, Abubakar Shekau, the leader of the group, claimed responsibility for the kidnapping of the schoolgirls, calling them "slaves".
"I abducted your girls. I will sell them in the market," Shekau said.
Unconfirmed reports from local sources indicate that the girls were taken to the neighboring Chad and Cameroon, where they were sold for as little as $12.
The Nigerian government has been under intense pressure by the girls' families to secure their release.
"This is a trying time for this country. It is painful," Nigerian President Goodluck Jonathan said on Sunday, adding that he has called for help from the United States, France, Britain and China in search and rescue efforts.
The group kidnapped 276 students from their secondary school in the town of Chibok on April 14.
According to security forces, 53 of the girls managed to escape but 223 are still being held.
Also on Monday, a large number of Boko Haram gunmen raided the remote northeastern Nigerian town of Gomboru Ngala in Borno state, forcing people to cross the border and flee into Cameroon.
"They have burnt the market, customs office, police station and almost every shop in the town and killed many people but I can't say how many," said Musa Abba, one of the witnesses.
They "have been going house-to-house shooting people who could not flee in time," Abba added.
Boko Haram — whose name means "Western education is forbidden" — says its goal is to overthrow the Nigerian government.
It has claimed responsibility for a number of deadly gun and bomb attacks in various parts of Nigeria since 2009.