Africa
Nigerians demand hostage girls' release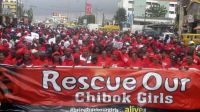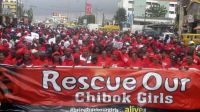 Scores of protesters have called on the Nigerian government to do more to secure the release of schoolgirls abducted by the Boko Haram Takfiri group.
According to AFP, the demonstrators marched toward President Goodluck Jonathan's residence in the capital Abuja on Thursday to express their anger over the government's failure to release the abducted girls.
They criticized Jonathan's insensitivity and his refusal to meet them.
Jonathan also refused to talk with some of the girls' parents, who had come to Abuja to meet him.
Nigeria is struggling to deal with the abduction of about 300 female students by the group. The militants have threatened to sell the girls into slavery.
The abduction, which took place in the remote northeastern village of Chibok, has triggered an international outcry and protests in Nigeria, piling pressure on the government to free the girls.
Local officials say they had warned the army of the attack hours before the Takfiri militants arrived.
Boko Haram has claimed responsibility for a number of deadly gun and bomb attacks in various parts of Nigeria since 2009.