Iran
Middle East
North America
Nightly chaos grips US cities as 4,400 people arrested, troops fire on crowds
Thousands of people have been arrested across the United States in angry protests that have now spread to dozens of cities over the death of unarmed and handcuffed black man George Floyd in police custody.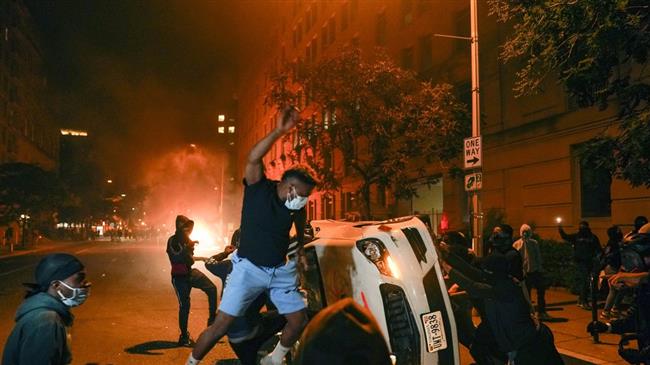 Floyd, 46, died after being arrested in Minneapolis, Minnesota, on Monday.
After six straight days of unrest, an analysis of state police data from The Associated Press found that at least 4,400 arrests nationwide have been linked to the protests, which began in Minneapolis.
People have been arrested in Minnesota and elsewhere police clashed with protesters in Washington D.C., New York City, and other cities.
Despite curfews in big cities across the US and the deployment of thousands of National Guard soldiers over the past week, protesters descended into chaos again on Sunday night.
Police deployed tear gas, flash bombs and batons in an effort to disperse angry protesters who defied curfews imposed by a large number of cities Sunday night, including Chicago, Atlanta, Los Angeles, Louisville, San Francisco and Denver.
Protesters hurled rocks and Molotov cocktails at police in Philadelphia, and torched a fire near the White House and police fired tear gas and pepper spray at the demonstrators in Austin, Texas, and other cities.
"We're not done," said Black Lives Matter organizer Darnella Wade in St. Paul. "They sent us the military, and we only asked them for arrests."
In video footage, Derek Chauvin, 44, can be seen pinning 46-year-old Floyd to the ground with a knee on his neck for more than 8 minutes despite repeated pleas from Floyd that he cannot breathe.
The video went viral online, reigniting public anger over police killings of African Americans, and reopening deep wounds over racial inequality across America.
The case follows the high-profile killings by police of Michael Brown in Ferguson, Eric Garner in New York and others that have driven the Black Lives Matter movement.
Chauvin is due to appear in court on Monday. Three other officers present at the time have also since been fired.
President Donald Trump has put the US Army on alert, saying troops could be deployed on the ground very quickly.
Minnesota remains the most volatile region, with curfews ordered for the Twin Cities of Minneapolis-Saint Paul from 20:00 to 06:00 on Friday and Saturday evening. Protesters defied the curfew.
Trump called for overwhelming force to crush the demonstrations in recent days, blaming the protests on local Democratic officials and former Vice President Joe Biden (D).
"Get tough Democrat Mayors and Governors. These people are ANARCHISTS. Call in our National Guard NOW," Trump tweeted Sunday. "The World is watching and laughing at you and Sleepy Joe. Is this what America wants? NO!!!"
"Other Democrat run Cities and States should look at the total shutdown of Radical Left Anarchists in Minneapolis last night," Trump added. "The National Guard did a great job, and should be used in other States before it is too late!"
As demonstrators clashed with police and Secret Service agents outside the White House on Friday, Trump was taken to the underground bunker for a period of time.
Trump was there for a little under an hour before being brought upstairs as protesters pulled metal barricades away from the White House gates, The New York Times reported Sunday.
First lady Melania Trump and their son, Barron, were also moved to the bunker, a law enforcement source and another source familiar with the matter told CNN.