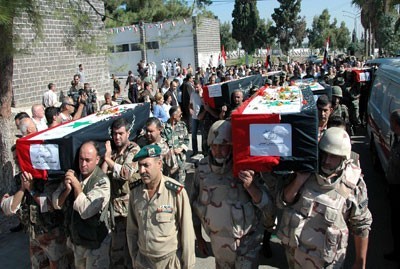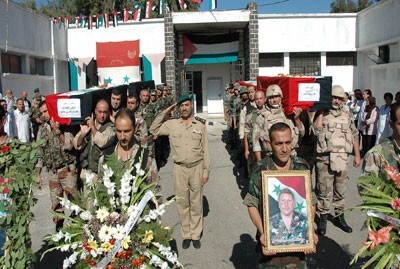 Nine martyrs of the army and the security forces on Tuesday were escorted from Tishreen and Homs Military Hospitals to their final resting place after they were targeted by US- backed armed terrorist groups in Homs, Hama, Daraa and Damascus Countryside.
Solemn processions were held for the martyrs as they were covered with flower wreathes while the Military Band was playing the music of the "Martyr" and the "Farewell".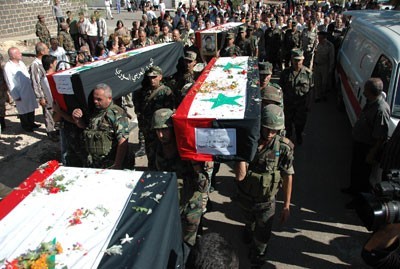 The martyrs are:
– Chief Warrant Officer, Mazen Hammoud al-Najem from Sweida.
– Chief Warrant Officer, Attallah Ekleh al-Obayid from Hasaka.
– Sergeant Major, Hikmat Suleiman Hassan from Hama.
– Sergeant, Mahdi Ahmad al-Ahmad from Homs.
– Conscript, Shadi Ghazi Firzat from Hama.
– Conscript, Abdullah Ibrahim al-Haj Abdullah from Idleb.
– Customs Guard, Issam Hassan Hammoud from Hama.
– Civilian, Mustafa Ahmad al-Ali from Homs.
– Civilian Shadi Hamdan Fandi from Hama.
Relatives of the martyrs expressed pride in their sons' martyrdom who sacrificed their lives to preserve the security and stability of the motherland and to thwart all the conspiracies targeting it.
Chief Warrant Officer Ali Mustafa Martyred in Idleb
Chief Warrant Officer, Ali Mustafa, from law enforcement forces was martyred in an ambush set by an armed terrorist group at the vicinity of Shalakh town in Idleb.
Official sources at Idleb Police Leadership clarified that the martyr was driving his motorcycle on the way back to his village, al-Foua, when he was attacked by a number of gunmen inside a car without a number plate on Aleppo-Idleb road.
The source added that the gunmen opened heavy fire on Mustafa as he was martyred.