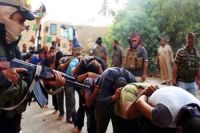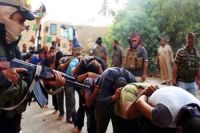 Nine Japanese nationals have allegedly joined the ISIL Takfiri terrorists, who are currently wreaking havoc on Iraq and Syria.
Japan's former air force chief, Toshio Tamogami, recently met with director general of the Israeli Foreign Ministry, Nissim Ben Shitrit, in the occupied Palestinian territories and was told that nine Japanese nationals have joined ISIL.
However, Japan's Chief Cabinet Secretary Yoshihide Suga said on Friday that the government has not confirmed such information.
According to the former Japanese air force chief, no details except the number of the Japanese nationals were given to him by the Israeli official.
Shitrit previously served as an Israeli ambassador to Japan.
The ISIL Takfiri terrorists have taken over large parts of Syria and Iraq over the past months. The terrorists have been committing barbarous acts in the captured areas.
A remarkable number of the ISIL members are foreign nationals.
EU Counter-terrorism Coordinator Gilles de Kerchove recently acknowledged that over 3,000 European citizens have joined ISIL in Syria and Iraq.
The number includes those who have returned to Europe and those who have been killed in the two countries, the EU official added.