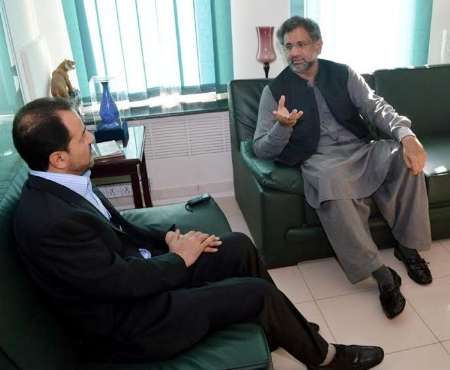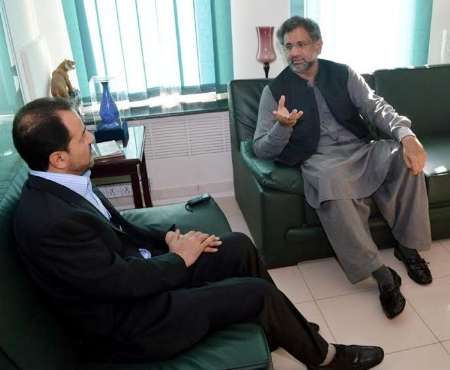 Pakistan Minister for Petroleum and Natural Resources said that after lifting of sanctions from Iran there would be no more obstacles or pressure from any country to complete the Iran-Pakistan gas pipeline project and it can be completed by end of 2017.
 In an exclusive interview with IRNA on Friday, Shahid Khaqan Abbasi said that Iranian ambassador Mahdi Honardoost has assured us that sanctions will be lifted "very soon", which will open new vistas of cooperation between the two brotherly neighboring states.
Giving details of his meeting with newly arrived Iranian ambassador to Pakistan, the minister said that Iranian envoy was very optimistic that sanctions will be lifted in "next one or two days" and that the economic ties between the two countries should be further improved.
"I briefed Iran ambassador about the latest issues on the IP project, we are working on the project the design is complete, the land and root is demarcated and we are talking to the contractors and hope to complete it by end of 2017," said the minister.
He said there is no pressure on Pakistan from any country to complete the IP gas pipeline, only sanction is the problem. "Now hopefully after lifting of sanctions the contractors would have no problem to complete the project," he said.
Pakistani official went on to say that the contract to finance the project by the Chinese company is being negotiated and it is not finalized yet. "The company has been selected, they have the funding available upto 85 percent, they have done all their design work and now we are negotiating with them on Gwadar-Nawabshah pipeline project which is part of the IP project," he said.
"Pakistan is building an LNG terminal at Gwadar and then building an over 700 km pipeline from Gwadar to Nawabshah. Only 80 kilometer from Gwadar to Iran border will be left which Pakistan companies can build this small portion in 3 to 4 months," he said.
He said the construction period of the pipeline is 30 months because it is 780 kilometers long pipeline. "We are trying to reduce that period upto 24 months or even less than that," he said.
Shahid Khaqan Abbasi added that there is lot of room available for improvement in Iran-Pakistan ties. "There can be crude oil imports by the refineries of Pakistan or the private sector. "Importing LPG gas from Iran is also possible."