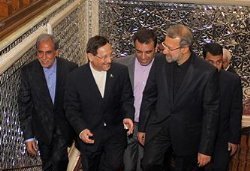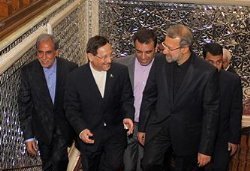 Majlis (Parliament) Speaker Ali Larijani said on Friday that certain elements should not be allowed to harm the friendly relations between Iran and Pakistan.
Larijani made the remark in a meeting with the visiting Chairman of Pakistan's Senate Farooq H Naik in Tehran on Thursday.
He emphasized on the importance of close cooperation between the two country's security organizations in fighting terrorism.
'Tehran and Islamabad have great potentials for bilateral and regional cooperation. They have to use their potentials for the sake of both nations' interests,' Larijani added.
Majlis speaker emphasized the important role of Iran and Pakistan for bringing about peace, security and development to Afghanistan.
Chairman of Pakistan's Senate Farooq H Naik, for his part, said that Pakistan pays great heed to expansion of ties with Iran in different areas.