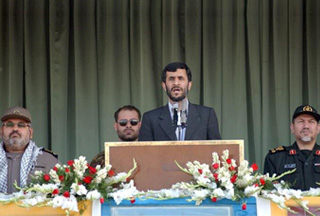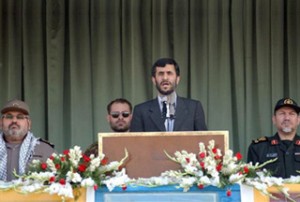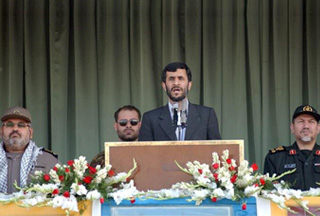 Iran's President Mahmoud Ahmadinejad says that Iranians offer a message of peace for all nations, while stressing no power will ever dare to think of invading Iran.
"No power will ever dare to think of launching an attack on the Iranian nation. Today, Iran is more experienced and powerful than ever before," said the president in a ceremony to celebrate the national 'Sacred Defense Week' on Tuesday.
"The Iranian nation seeks the establishment of peace and sustainable security based on justice. Our people are strong to defend their rights and land," he added.
"Our powerful armed forces will cut the hands of every power who intends to shoot a bullet at us from anywhere."
Ahmadinejad, who plans to head to New York later Tuesday to attend the UN General Assembly meeting recommended bullying powers to "change their approaches and thoughts in favor of humanity and human values."
"It is unacceptable that those who came to our region from thousands of kilometers away brought nothing but insecurity and attempted destabilization of regional nations," he said.
"They came to our region to sell their weapons and provoke confrontation. They accuse other powers of interfering in affairs of regional countries and causing insecurity."
He urged US-led foreign forces to fully withdraw from Iraq and Afghanistan.
"We advise you to go back to your own land and spend heavy military costs on resolving the woes of your own nations," said the president, adding " Regional nations have the ability to establish and defend their own security."
"Our region will never tolerate the presence of foreigners for any lengthy period."
"As you saw in Iraq and Afghanistan, people are against the presence of foreigners. It is impossible for foreign troops to have a stable base in these regions," added the Iranian president.
Iran holds special ceremonies on Tuesday to mark the first day of Sacred Defense Week' — an annual commemoration of the 1980-1988 war imposed by Iraq under the late dictator Saddam Hossein.