Yemen
'No reconciliation in Yemen'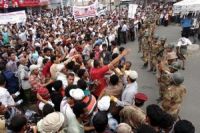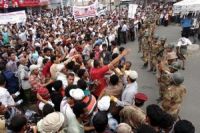 Yemen's Ansarullah Movement has rejected some media news regarding an agreement between the movement and Yemen's President to end the current political crisis.
The movement's spokesman, Muhammad Abdolsalam, told the Al-Mayadin news channel on Thursday that talks are still going on between Ansarullah and Yemeni President, Abd Rabbu Masnour Hadi; however, there's been no agreement yet.
Yemen's Houthi Shiites have been staging street protests since three weeks ago to call for three main demands, namely the removal of the corrupt government, reinstatement of fuel subsidies, and the implementation of the outcomes of the National Dialogue Conference. At the head of the popular uprising is the Ansarullah movement led by Abdel-Malik Al-Houthi.
The group has been holding negotiations with the presidential office over the past two weeks with no results.
Ansarullah rejected a recent plan by the presidential committee to solve the political crisis, saying the proposal did not meet the Yemeni people's demands.