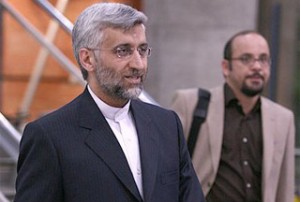 The secretary of Iran's Supreme National Security Council says the Islamic Republic will not retreat one step on the rights of the nation.
Saeed Jalili, who is also Iran's leading nuclear negotiator, said on Monday that Iran is now enjoying its full right to peaceful nuclear energy thanks to the country's dynamic and active foreign policy.
He stated that his team would defend the country's inalienable rights in all areas, including the ongoing negotiations over buying fuel for the Tehran research reactor.
Following three days of negotiations in Geneva starting on October 19, the major powers put forward a proposal suggesting that Iran send about 70 percent of its low-enriched uranium stockpile out of the country in exchange for metal fuel rods for the Tehran medical research reactor, which manufactures medical radioisotopes.
Iran has said that it would accept the essential elements of the proposal but has also sought modifications to the formula.
Jalili said Iran's stance on international issues has challenged certain Western powers and has raised serious questions regarding their policies.
He says the Islamic Republic has a vast capacity in all fields and is questioning the major powers conduct by challenging their claims about freedom of speech and other issues.
He added that Iran has taken an 'active approach' in its nuclear talks with the major powers.
"Measures have been taken to block the way for certain powers to seek excuses in this issue," Jalili told a group of students studying at the Qom Seminary in central Iran.
Iran will continue on the path of progress in using nuclear energy for peaceful purposes, he added.
Jalili described Iran's talks with the six major powers as a way to attain rights and realize goals.
"Iran's confrontation with the United States is a paradigmatic confrontation," he observed.
"The Islamic Republic of Iran's regional power — like the principle of the Islamic Revolution — is an undeniable reality and it has been established, despite the will of the domineering powers," Jalili added.