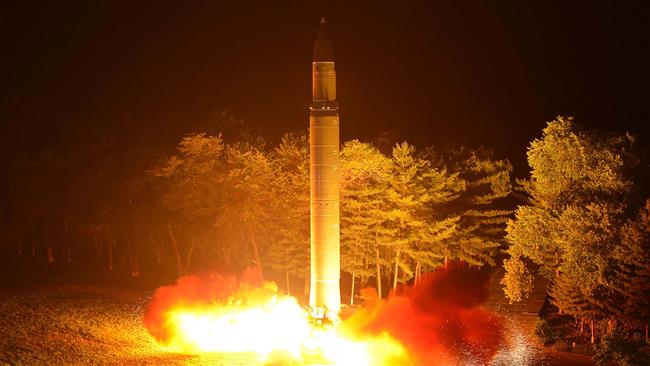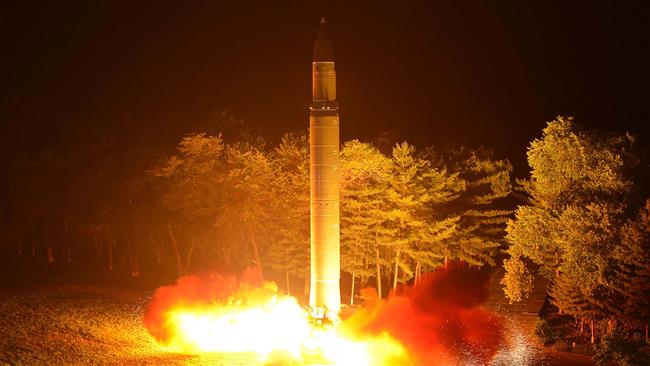 North Korea's missiles are capable of hitting targets across most of the United States, American intelligence officials claim, citing evidence from Pyongyang's latest missile test.
North Korea test-launched a Hwasong-14 ballistic missile on Saturday, calling it a "stern warning" to the US that it would not be safe if it resorts to military action.
The consensus in Washington is that the Hwasong-14 in many ways resembled an intercontinental ballistic missile (ICBM) and proved the North's ability to hit targets on American soil, Reuters reported Monday, citing two US intelligence officials.
Speaking on condition of anonymity, the officials said the missile's 47-minute flight time was indicative of a greater range compared to another missile that was tested on July 4th, which flew 39 minutes.
The Hwasong-14 also made use of force stabilizing engines that gave it greater height, range and power by deflecting the effects of winds and other forces that could knock it off course while ascending.
The Pentagon says the missile's trajectory, although not direct enough to reach the US, showed that it had the potential.
In a press briefing, Pentagon spokesman Navy Captain Jeff Davis refused to reveal the US military's assessment but confirmed that the missile could fly at least 5,500 km (3,420 miles), the minimum range for what the Pentagon classifies as an ICBM.
"You could have the debate back and forth of whether the capability is proven or not, the fact of the matter is we take it seriously and we are prepared to defend against (it)," he noted.
Last month, the United Nations Security Council imposed a fresh array of sanctions on Pyongyang in response to a number of missile tests carried out this year.
'Years away from North Korean nuke missile'
Russia and China have opposed calls for new sanctions and would only agree when the North obtains the required technology to develop ICBMs, according to diplomatic sources.
Unlike Washington, Beijing and Moscow argue that Pyongyang has yet to master the know-how.
Russian Deputy Foreign Minister Sergey Ryabkov played down concerns about North Korea's ability to produce nuclear missiles, saying on Friday that the country is "years and years away from a moment they can weaponize."
"What they are testing are quite primitive devices which require months for preparation, and which are essentially pieces of equipment with all sorts of wires and additional elements around, which simply cannot be put on top of any missile," he added.