North America
North Korea fires unidentified projectile towards East Sea: South military
North Korea has launched two "unidentified projectiles" toward the Sea of Japan, the South Korean military says, an apparent resumption of weapons tests amid stalled nuclear talks with the United States.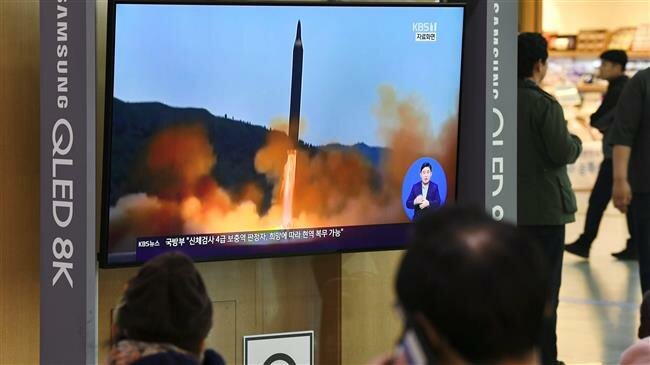 South Korea's Joint Chiefs of Staff (JCS) announced the news in a statement, carried by the country's Yonhap news agency, saying that the projectiles were launched from South Pyongan province on Thursday afternoon, without specifying the type of devices involved or how far they flew.
"Our military is monitoring the situation in case of additional launches and maintaining a readiness posture," the JCS further said in its brief release.
Japan's Coast Guard said "it appears that North Korea has launched a missile" and advised ships to avoid the area. If confirmed, it would be the first missile test by the North in nearly a month and the 12th since May.
On October 3, Pyongyang said that it had successfully test-fired a new submarine-launched ballistic missile (SLBM) from the sea a day earlier to contain external threats and strengthen self-defense.
North Korea had been developing SLBM technology before it suspended long-range missile and nuclear tests last year.
N Korea confirms testing ballistic missile from seaPyongyang has confirmed reports that it successfully test-fired a new submarine-launched ballistic missile (SLBM) from sea.
Thursday's launches came four days after Pyongyang renewed a warning for the United States against an impasse in the diplomatic process between the two sides over the North's ballistic missile and nuclear programs, saying continuous hostilities could lead to a conflict.
Kim Yong-chol, chairman of the Korea Asia-Pacific Peace Committee, said at the time that "belligerent relations still persists that there can be an exchange of fire any moment."
He also warned that the White House was "misjudging the patience and tolerance" of North Korea.
N Korea: Continued US hostility could lead to conflictPyongyang renews a warning against an impasse in the diplomatic process with Washington, saying continued hostilities could lead to an exchange of fire.
Earlier this month, Pyongyang walked away from working-level nuclear talks with Washington in Sweden, and has since repeatedly urged the US to come forward with a new offer by the end of this year.
North Korean leader Kim Jong-Un has already set the end of 2019 as the deadline for achieving progress in stalled denuclearization talks between Pyongyang and Washington.
In June 2018, Kim and US President Donald Trump held their first ever summit in Singapore, where they struck a broadly-worded agreement on working towards denuclearization of the Korean Peninsula, the details of which remain to be hammered out.
The pair also had an unsuccessful February meeting in Hanoi, Vietnam.
'US wants China to press N Korea over nuke talks'The senior US defense official for Asia said on Tuesday the United States wants China to press Pyongyang to be more constructive in talks with the US.
The diplomatic process, however, hit a dead end as the US refused to reciprocate a set of measures that Pyongyang took in line with the agreement, including demolishing at least one nuclear test site and agreeing to allow international inspectors into a missile engine test facility.