Korea
North Korea launches 2 unidentified projectiles: South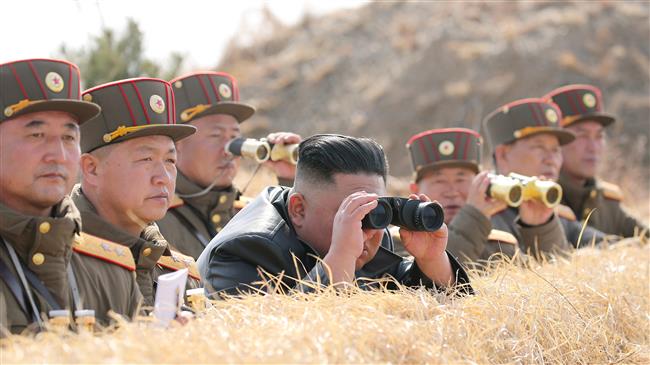 North Korea has fired two "short-range projectiles" into the ocean off its east coast, South Korea says, calling the launches "very inappropriate" amid the global coronavirus pandemic.
The projectiles were launched from the coastal Wonsan area on Sunday and flew 230 kilometers at a maximum altitude of 30 kilometers, South Korea's Joint Chiefs of Staff (JCS) said in a statement.
There was no immediate confirmation from Pyongyang, but Japan, too, detected the launches, which it said appeared to be of "ballistic missiles."
Japan's Self Defense Force said in a statement that the missiles had landed outside the country's Exclusive Economic Zone, which extends 200 nautical miles from its shore.
The statement called the launches "a serious issue for the whole international society."
The United Nations (UN), the United States, South Korea, and other bodies have slapped multiple sets of sanctions on North Korea over its weapons programs. But Pyongyang has refused to abandon those programs amid substantial military presence by the US on and around the Korean Peninsula.
Washington holds regular military drills with Seoul. Pyongyang deems those drills "rehearsals for invasion."
US President Donald Trump has attempted to de-escalate tensions with North Korea, and although he has met with North Korean leader Kim Jong-un three times, he has refused to relieve any of the harsh sanctions on Pyongyang, and that has in turn hampered demilitarization efforts.
In December last year, Kim ended a moratorium on North Korea's missile tests, because the country had been offered no sanctions relief.
Since then, multiple North Korean missile launches have been reported by the South, Japan, and the US.
Seoul reported two launches last Sunday.
N Korea fires two projectiles into Sea of Japan: South Korea's military
North Korea fires two projectiles toward the Sea of Japan, South
The latest launches come amid a global pandemic of the new coronavirus, which has killed thousands. North Korea has not released any information about possible infections or deaths inside the country.
South Korea called the launches on Sunday "very inappropriate" amid the pandemic.
"In a situation where the entire world is experiencing difficulties due to COVID-19, this kind of military act by North Korea is very inappropriate and we call for an immediate halt," South Korea's JCS said, referring to the disease caused by the coronavirus.