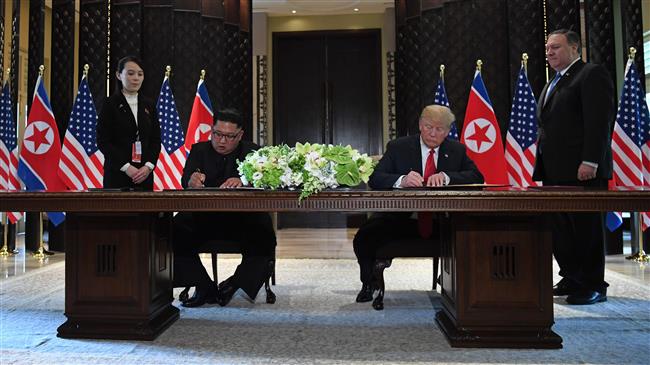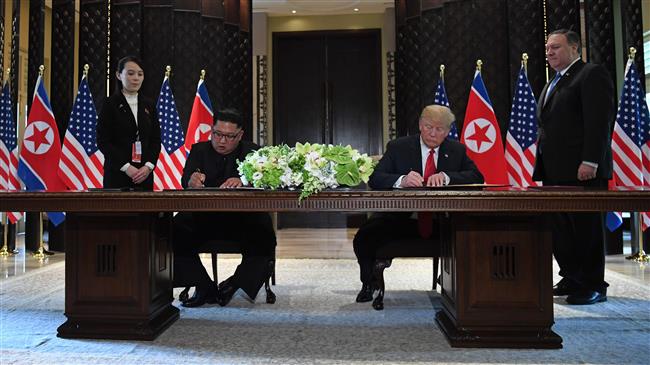 US President Donald Trump and North Korea leader Kim Jong-un have signed a document described by the American leader as important and comprehensive, following a historic summit between the two in Singapore.
Trump also said after signing the document at the Capella Hotel on Singapore's Sentosa Island on Tuesday that he expected denuclearization on the Korean Peninsula to begin "very quickly."
What's in the document
The document signed on Tuesday says the US and North Korea "commit to establish [sic] new… relations in accordance with the desire of the peoples of the two countries for peace and prosperity."
North Korea also reaffirmed its commitment to working "towards complete denuclearization of the Korean Peninsula," a broad wording that could mean phased denuclearization in return for a number of potential American commitments along the way.
Yet, there was no word on any such US commitments, including on the removal of harsh sanctions on North Korea and security guarantees that Pyongyang had previously demanded as a condition to denuclearize.
The US and the North Korea also agreed to work for peace on the peninsula and address prisoners of war (POWs) and missing in action (MIA) cases from the 1950s Korean war, in which the US was on South Korea's side.
Before signing the document, Kim said the two leaders had had a historic meeting "and decided to leave the past behind. The world will see a major change."
The US president said he had formed a "very special bond" with Kim and that the US's relationship with Pyongyang would be very different.
"People are going to be very impressed and people are going to be very happy and we are going to take care of a very dangerous problem for the world," he added.
Asked whether he would invite Kim to the White House, Trump answered, "Absolutely, I will."