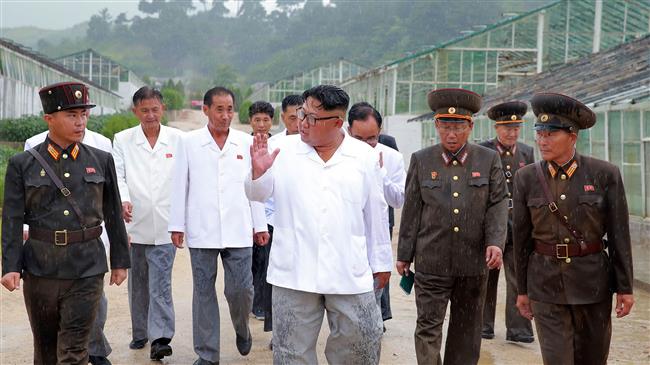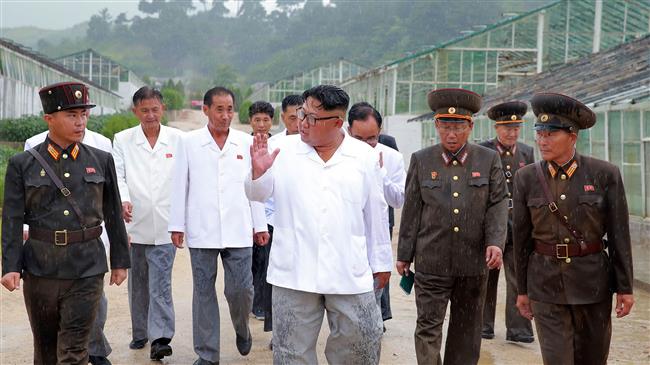 North Korean leader Kim Jong-un on Friday strongly denounced the international sanctions on his country, saying that 'hostile forces' are trying to 'stifle' the North Korean nation by imposing such bans.
Kim made the rare remarks during a visit to a construction site in a tourist coastal area, the Korean Central News Agency (KCNA) reported.
The North Korean leader expressed his discontent with the international sanctions, and accused what he called "hostile forces" of attempting to "stifle" his nation by imposing "brigandish" sanctions and a blockade on Pyongyang.
He also described his country's resistance against such sanctions as "a do-or-die struggle to defend the prestige of the party and a worthwhile struggle for creating the happiness of the people."
Kim's comments came as a surprise to South Korea's Yonhap News Agency which wrote on Friday that it was rare for the North Korean leader to personally mention sanctions and blockade by using rough expressions like "brigandish."
According to the Red Cross, North Korea has not seen a drop of rain since early July.
The remarks came a few days after the International Federation of Red Cross and Red Crescent Societies (IFRC) warned that North Korea would likely go through a "full-blown food security crisis" amid a heatwave that destroyed a large portion of the country's agricultural fields.
In a statement issued last Friday, the IFRC stressed that the worrying situation has been exacerbated by the international sanctions imposed on North Korea over its missile and nuclear programs.
North Korea is under tough sanctions imposed by the UN, the US, and the European Union. The UN imposed its toughest-ever bans on Pyongyang after it test-fired new ballistic missiles in July 2017 and then conducted its most powerful nuclear test in September 2017.
The EU and the US, which has engaged in talks with North Korea over its nuclear program, have also imposed wide-ranging unilateral bans against the country.
After a historic summit in Singapore in June, US President Donald Trump said Kim had promised to immediately end North Korea's weapons programs. Pyongyang, however, later urged Washington to take reciprocal measures including officially removing sanctions.