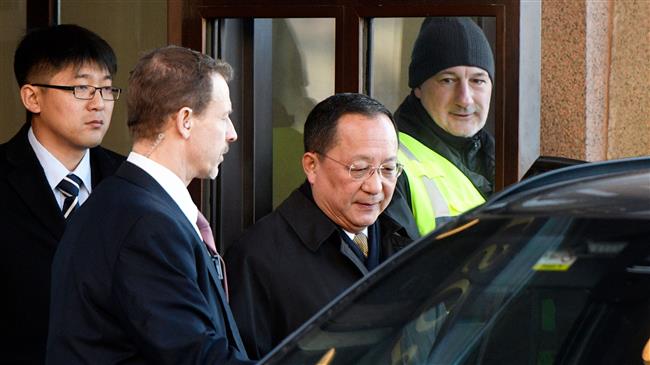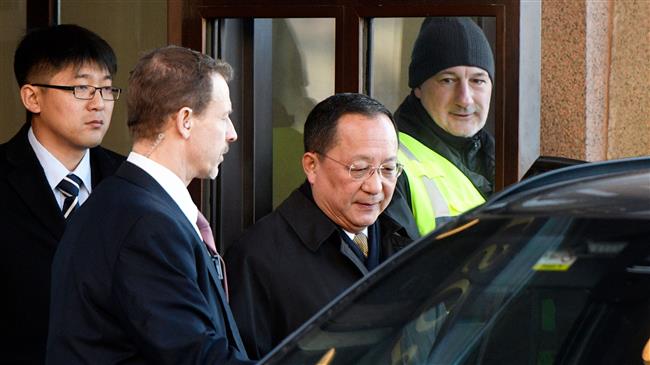 North Korea's Foreign Minister Ri Yong-ho has held talks with Swedish Prime Minister Stefan Lofven in Stockholm amid reports that Sweden may host upcoming talks between Pyongyang and Washington.
"They had a meeting. We will not disclose what they talked about," Lofven's spokesman Jonatan Holst said of Ri and Lofven after their Friday meeting.
The Swedish Foreign Ministry is expected to publish a statement later.
Ri arrived in the Swedish capital on Thursday evening after a short stop in China.
He is accompanied by his ministry's deputy director general for North America, Choe Kang-il.
The North Korean foreign minister held talks with his Swedish counterpart, Margot Wallstrom, late on Thursday and early on Friday.
Swedish officials had announced that the talks were to focus on the denuclearization of the Korean Peninsula and a possible meeting between US President Donald Trump and North Korean leader Kim Jong-un.
Trump has said a meeting is being planned between him and Kim "by May," but has offered no more details.
International media have speculated that Sweden could either host the possible summit or help in some other way.
But no specific time or venue have been announced as of yet.
Prime Minister Lofven on Thursday said Sweden was "ready" to play a role if asked.