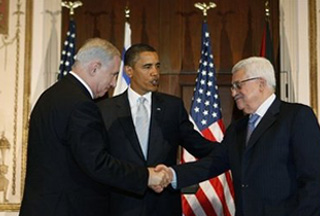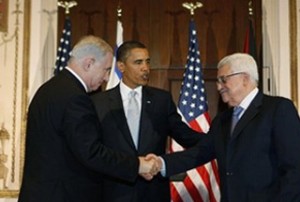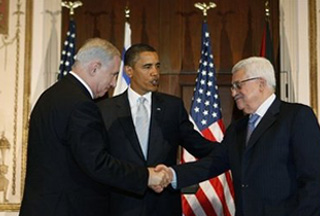 Mahmoud Abbas insists that all settlement construction by the Israelis in the occupied territories must be halted before peace talks can be relaunched.
In trilateral talks hosted by US President Barack Obama with Israeli Prime Minister Benjamin Netanyahu and acting Palestinian Authority chief Mahmoud Abbas on September 22 in New York, aimed at relaunching the Middle East peace process, Obama challenged both leaders to do more to find a way to ease the tension in the region.
Before the three-way meeting, Obama met separately with each of them to find a way forward toward the elusive peace. The last round of peace talks broke off in 2008.
Obama, with little expectation of any immediate breakthrough, called for a start in serious negotiations. "It is time to move forward," he told both leaders during the trilateral meeting.
Obama's words as the meeting got under way showed frustration with the looming gap between the two sides. He said that the Palestinians must build on the progress in halting militant attacks and "do more to stop incitement." As for the Israelis, he said, they must turn these discussions into real action.
Obama said that "Israel must freeze all settlement construction," which is one of the conditions for Abbas to resume negotiations. But Israel has only committed to a partial halt to the expansion of settlements on occupied land, which is illegal under international law. Netanyahu demanded that the Palestinians recognize Israel as a "Jewish state," as one of his conditions.
Despite all the obstacles, Obama said, "we have to find a way forward."
The three-way meeting was held on the sidelines of UN General Assembly meetings in New York.
In compliance with Israeli wishes, the democratically elected Hamas government that controls the Gaza Strip has been excluded from the peace talks.