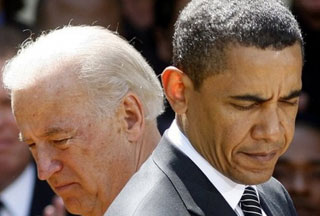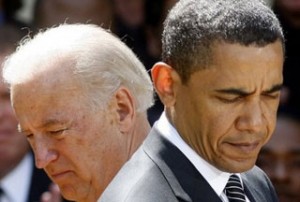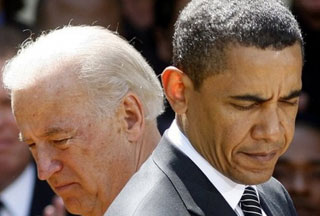 The US president and vice-president host Iraq's Vice-President Tariq al-Hashimi amid a row over excluding Baath-linked candidates from Iraq's next elections.
The meeting held in Washington on Monday was originally scheduled for talks between US Vice-President Joe Biden and his Iraqi counterpart, but President Barack Obama later decided to join the discussion, said a White House statement.
The meeting reportedly revolved around Iraq's upcoming general elections scheduled for March and the United States planned withdrawal in 2011.
Hashimi's visit to Washington comes almost a week after Biden visited Iraq to discuss Baghdad's disqualification of candidates affiliated with executed dictator Saddam Hussein's outlawed Baath party.
The decision, announced in January, barred more than 500 politicians, among them a number of Sunni figures, from running in the elections.
The move drew sharp criticism from the country's Sunni leaders and prompted warnings from the West against what they suggested to be a pretext to marginalize the country's Sunni minority.
Head of Iraq's National Congress, Ahmed Chalabi, however, defended the decision, citing Article 7 of the Iraqi Constitution which prohibits Baathists and their sympathizers from participating in the political life of the country.
He also rejected allegations of discrimination against Sunni Muslims, saying Shia candidates barred perhaps outnumbered their Sunni peers. "It is a propaganda line that is being spread by many Arab media outlets and also the American and British press, the western press," he said.
"I believe that the reason for this is that they thought that it is in their interest to have people associated with the Baath party come into the Parliament as a counterweight as to what they believe to be a Shia bloc," he added.