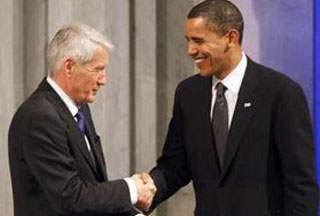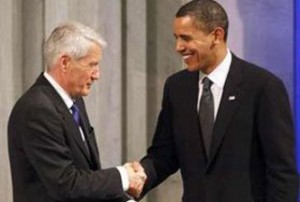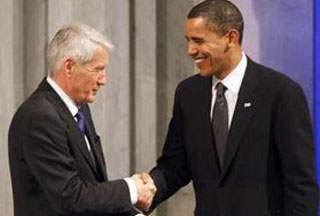 The US President Barack Obama, shortly after deploying 30,000 more troops to Afghanistan, collects his Nobel Peace Prize amid criticisms saying that it was too soon for him to receive the prize.
Obama admitted on Thursday the "controversy" around his prize saying that next to "some of the giants of history who have received this prize my accomplishments are slight".
Obama noted he received the prize with "great humility," reported AFP from the Norwegian capital Oslo.
The Chief of the Norwegian Nobel Committee, Thorbjoern Jagland, confronted the criticisms over the award granted to the US president by saying that "It is now, today, that we have the opportunity to support President Obama's ideas."
"This year's prize is indeed a call to action for all of us."
Obama who during his presidential campaign had promised to end US-led wars formally accepted his Nobel Peace Prize less than 10 days after ordering thousands of extra US troops to the war in Afghanistan.
Pakistani Premier Yousuf Raza Gilani said in late November that Washington's decision to send thousands of extra troops to Afghanistan may destabilize his country.
Gilani, in an interview with DPA, said in Islamabad that an increase in US troops in Afghanistan is likely to lead to a spill over of militants inside Pakistan.
Hundreds of militants fled into the country after the US-led invasion of Afghanistan began eight years ago.
"A stable Afghanistan is in Pakistan's interest, but at the same time we also do not want our country to be destabilized," AFP quoted Gilani as saying.
This is while a New York Times report in December revealed that the administration of President Barack Obama has also authorized an expansion of drone attacks on Pakistan's troubled tribal regions.
Pakistani officials later opposed the expansion of drone attacks in the country's tribal areas, as well as strikes on Baluchistan, where the US claims Taliban leaders are hiding.
Pakistan's Foreign Ministry spokesman Abdul Basit said that there were limits to Pakistani cooperation with the US in the war against Taliban militants, and the drone attacks (in Baluchistan) were counterproductive.
"This has never been part of our discussions. There are clear red-lines as far as we're concerned," he said when asked if there had been any discussion between Washington and Islamabad on expansion of the drone attacks on Baluchistan.
The purported aim of the American air strikes is to target militants. But Pakistani media outlets report the raids generally kill civilians.
Use of drones has increased since Obama became president. He has repeatedly vowed to expand the controversial strikes that have raised anti-US sentiments across Pakistan.
The unpopular strikes were initiated under the George W. Bush administration in 2006.