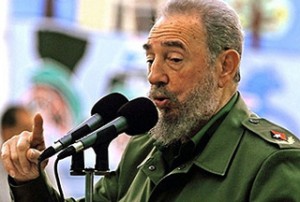 Cuba's revolutionary leader Fidel Castro has accused US President Barack Obama of cynicism for his acceptance of the Nobel Peace Prize in time of the US war in Afghanistan.
Castro found Obama's acceptance of the 2009 Nobel Prize for Peace ironic and dubbed the act "cynical" over the US president's recent decision to dispatch an extra 30,000 troops to Afghan battle grounds.
"Why did Obama accept the Nobel Peace Prize when he had already decided to take the war in Afghanistan to its ultimate limit?" the 83-year-old former leader said.
He also said that the US president "was not obligated to commit a cynical act" by accepting the prize, AP reported.
Castro also criticized Obama for acting "same as [former US president] George W. Bush."
"The president of the United States doesn't say a word about the hundreds of thousands of people, including children and innocent elderly people, who have died in Iraq and Afghanistan," added Castro.
Obama arrived in Oslo, Norway early on Thursday to pick up his peace prize.