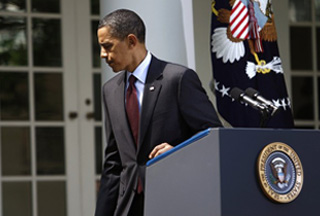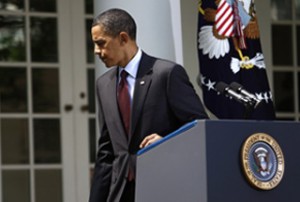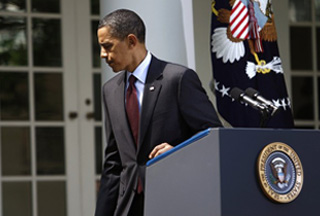 In a new twist in Washington's drive for international pressure against Iran, US President Barack Obama says there is no guarantee that sanctions will change the course of Tehran's nuclear program.
"Do we have a guarantee as to the sanctions we are able to institute at this stage are automatically going to change Iranian behavior? Of course we don't," Obama said in a Friday interview with George Stephanopolous on ABC's Good Morning America.
The US president, however, expressed hope that "consistent and steady" international pressure would eventually persuade Iran to "start making a different set of cost-benefit analyses" about what he described as Iran's pursuit of nuclear weapons.
Washington is leading a push for a fourth round of sanctions against Iran at the United Nations Security Council in a bid to hinder the country's drive for its nuclear energy program.
Iran, as a signatory of the Nuclear Non-Proliferation Treaty, insists that it neither believes in atomic weapons, nor, as a matter of religious principles, does it intend to acquire nuclear or other weapons of mass-destruction.
It has repeatedly called for a Middle East free from nuclear weapons and global nuclear disarmament.
On Thursday, Iranian President Mahmoud Ahmadinejad asserted that sanctions will never "scare Tehran into giving up its right to attain peaceful nuclear technology".
"We do not welcome threats and sanctions and we will never plead with those who are threatening us with sanctions to not impose sanctions, but we will turn sanctions into opportunities," IRNA quoted Ahmadinejad as saying.
The Islamic Republic has been under US sanctions after the nation toppled a US-backed dictator Shah Mohammad Reza Pahlavi in the 1979 Islamic Revolution.