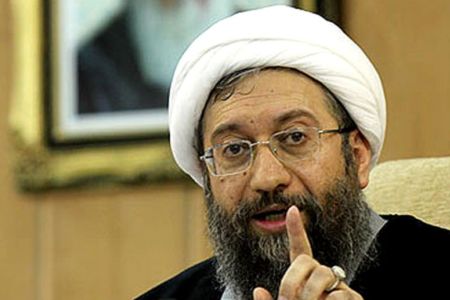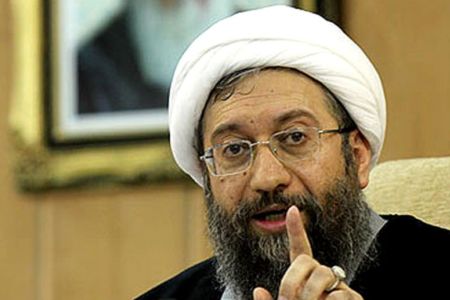 Head of Iran's Judiciary describes US President Barack Obama's request for the return of the US spy drone downed by the Islamic Republic's armed forces last week as outrageous.
"The US has violated our country's territory and has waged an intelligence war, and now expects us to return the aircraft," Ayatollah Sadeq Amoli Larijani was quoted as saying by a Judiciary statement on Wednesday.
Addressing a session of high-ranking Iranian judicial authorities, he expressed regret that the US blatantly interferes in the internal affairs of other countries and then expects its spy plane to be returned. 
Stressing that US espionage in Iran is an outright crime, the official said, "Iran has the right to deal with this blatant crime in any way [it deems necessary] and the US should forget about getting the spy aircraft back." 
A US RQ-170 spy drone crossed Afghanistan's border with Iran on December 4, but was successfully brought down with minimal damage by the Iranian Army's electronic warfare unit. The aircraft was flying over the northeastern Iran city of Kashmar, some 225 kilometers (140 miles) away from the Afghan border. 
Following days of silence on the capture and unveiling of spy drone by Iranian armed forces, US President Barack Obama on Monday said that Washington has asked Tehran to return the US reconnaissance drone.
"We've asked for it back. We'll see how the Iranians respond," Obama said in a news conference with Iraqi Prime Minister Nouri al-Maliki in Washington.
On Tuesday, Iran's Defense Minister Brigadier General Ahmad Vahidi reacted to Obama's request saying that the spy aircraft would remain in Iran's possession.
Meanwhile, head of Iran Majlis (parliament) National Security and Foreign Policy Committee Alaeddin Boroujerdi said on Tuesday that Iran would definitely not return the RQ-170 spy drone, and Washington has to compensate Tehran for violating the country's airspace.
The RQ-170 is an unmanned stealth aircraft designed and developed by the Lockheed Martin Company.
Tehran has also lodged a complaint with the United Nations over the violation of its air sovereignty by the intelligence gathering aircraft.
Iranian Ambassador to the UN Mohammad Khazaei on December 8 called on the world body to condemn US aggressive moves against the Islamic Republic with respect to the reconnaissance drone that violated the Iranian airspace.