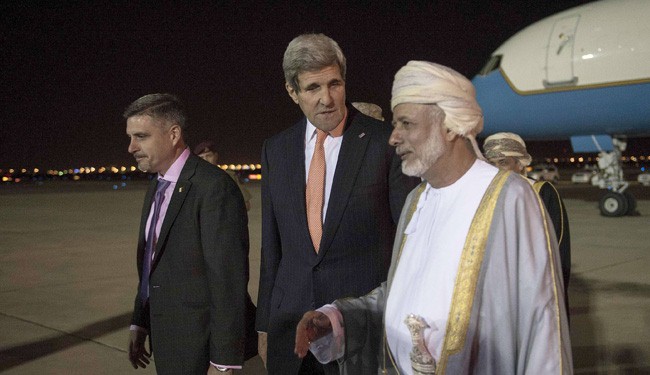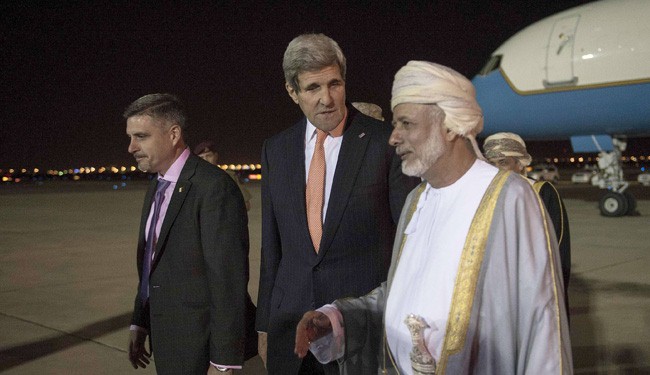 The Obama administration is facing its last best chance to reach a deal on Iran's nuclear program _ not just to meet an end-of-the-month deadline for a deal, but also to seal one before skeptical Republicans who will control Congress next year are able to scuttle it, AP reports.
Years of negotiations to resolve differences between west and Iran on Tehran's civilian nuclear production entered the final stretch Sunday as U.S. Secretary of State John Kerry met with Iranian Foreign Minister Javad Zarif and European Union senior adviser Catherine Ashton in Oman's capital. With no immediate agreement in sight, officials said the discussions were expected to continue into Monday.
Iran, the US and the European Union have started a second round of talks in the Omani capital, Muscat, to find a solution to the outstanding issues over Tehran's nuclear energy program ahead of a deadline for a breakthrough deal.
Iran has described the Oman talks as very important and decisive, saying that the volume of Tehran's uranium enrichment and the timetable for the removal of anti-Iran sanctions are top issues on the agenda.
The stakes are high as the Nov. 24 deadline approaches. A deal could quell help revive the Iran economy.
It also would deliver a foreign policy triumph for the White House, which is being hammered by prominent Republican senators over its handling of the war in Syria and the growth of the ISIS militancy in Iraq.
Those same critics seek to put the brakes on U.S.-Iranian bartering, if not shut it down completely, once they seize the majority on Jan. 3.
The Obama administration "needs to understand that this Iranian cares more about trying to weaken America and push us out of the Middle East than cooperating with us," Republican Sens. John McCain of Arizona, the incoming chairman of the Senate Armed Services Committee, and Lindsey Graham of South Carolina, said in a statement last week.
President Barack Obama told CBS' "Face the Nation" that "a big gap" between Iran and world powers as they try for a final agreement. "We may not be able to get there," he said in the interview broadcast Sunday.
Over the past year, congressional Republicans have made little secret of their skepticism of Obama's outreach to Tehran. They say it has alienated Israel and kept the U.S. from maintaining a hard line on a number of foreign policy fronts.
Iran has maintained that its nuclear activities are purely peaceful and necessary to fuel medical and energy demands.
Last week, Kerry, a former Senate Foreign Relations committee chairman, rejected suggestions that a GOP-controlled Congress would be able to change course on negotiations with Iran. He also noted that any Senate move would need overwhelming support to be approved. "As we have learned in the last few years, the minority has enormous power to stop things from happening," he said.
He also has said none of the world powers has an appetite for extending the talks beyond the Nov. 24 deadline, although that remains a remote possibility if an agreement appears close.
Seyed Abbas Araghchi Iran's chief nuclear negotiator in talks with the P5+1 in an exclusive interview with AL-ALAM, emphasizing "no one want a return to the condition before Geneva agreement", saying "this is dangerous scenario for all parties".
If a deal is struck before year's end, U.S. lawmakers may have limited ability to undo it. Experts believe most of the U.S. penalties against Iran's financial and oil markets can be suspended, if not lifted entirely, by presidential authority.
Iran has the right to operate a civil nuclear program, U.S. Secretary of State John Kerry said Wednesday, as he met with his French counterpart ahead of a crucial round of talks over Tehran's nuclear activities.
"They have a right to a peaceful program" Mr. Kerry said, flanked by French Foreign Minister Laurent Fabius.
Beyond Jan. 3, however, and without an agreement in place, Congress could try to issue new sanctions without giving Obama that authority to suspend or lift them. Already, a plan to strengthen them if the negotiations expire without a final deal has gathered strong backing from senators from both parties.
If the two sides are close at that point, the administration almost certainly would move to veto any legislation imposing new penalties, or ones that would otherwise tie Obama's hands. Administration officials believe new sanctions could violate the negotiating terms and lead Iran to step up its production of enriched uranium.
But if the negotiations drag on, the White House will have to decide whether it could accept sanctions with a threatened "trigger" to be enacted in future months.
The U.S. official made clear that triggered sanctions are not currently being considered by the White House. The official was not authorized to discuss the strategy by name and spoke on condition of anonymity.
"If Congress can be convinced that the overall framework for a deal is in place and it really is just loose ends that need tying, then I think it would probably wait until seeing a final deal before taking any action," said James Acton, co-director of the nuclear policy program at the Carnegie Endowment for International Peace in Washington.
"However, it may be hard to persuade Congress that a deal is just around the corner," Acton said.
Iran has strongly condemned the European Union's latest move to impose fresh sanctions on a number of Iranian institutions and companies despite the ongoing negotiations between representatives of Iran, the US and the EU in the Omani capital, Muscat.
Iranian officials appear guardedly optimistic about reaching an agreement by the end of November, but insist on a quick lifting of the sanctions.
"Sanctions have never contributed to the resolution of this issue," Zarif told reporters as he headed to Muscat. "They must be removed. They have not produced any positive results."
Iranian Foreign Minister Mohammad Javad Zarif has expressed the Islamic Republic's firm determination to reach a final agreement with the P5+1 group of world powers which will fully safeguard the country's nuclear rights.
"We are determined to find a solution based on our country's full nuclear rights," Zarif said in a meeting with Minister Responsible for Foreign Affairs of Sultanate of Oman Yusuf bin Alawi bin Abdullah in Muscat on Sunday.
Last November, Iran and the P5+1 group of countries – Russia, China, France, Britain, the US and Germany – clinched an interim nuclear accord, which took effect on January 20 and expired six months later. However, they agreed to extend their talks until November 24 as they remained divided on a number of key issues.
Sources close to the Iranian negotiating team say the main stumbling block in the way of resolving the Western dispute over Iran's nuclear energy program remains to be the removal of all the bans imposed on the country, and not the number of centrifuges or the level of uranium enrichment, Press TV reports.
Tehran wants the sanctions entirely lifted while Washington, under pressure from the pro-Israeli lobby, insists that at least the UN-imposed sanctions should remain in place.