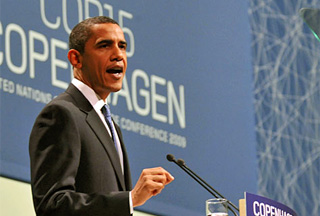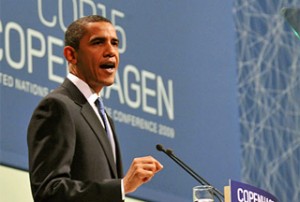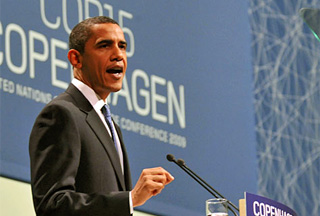 The US president has stressed that world leaders must strike a deal, no matter how imperfect, at the UN climate talks or risk opening dangerous splits in their attempts to tackle global warming.
"This is not a perfect agreement, and no country would get everything that it wants," Obama told delegates on Friday, the final day of the Copenhagen summit.
"The question is whether we will move forward together, or split apart."
Obama did not offer deeper emissions cuts than Washington has already offered or specific figures on how much Washington will be contributing on its promised "fair share" to fight climate change.
He promised that the United States would keep its pledge to reduce emissions, in the range of 17 percent below the 2005 levels by 2020, "no matter what happens in Copenhagen."
Obama also warned that the world risked, by failing to come to an agreement, prolonging an already protracted debate while the effects of climate change worsen.
"We are ready to get this done today. But there has to be movement on all sides," said Obama, who also met world leaders of top developed states including Britain, France, Germany, Japan, and key developing nations including a representative from China, and leaders of Brazil, India and South Africa.
The biggest movement still must come between the United States and China — the world's two largest carbon emitters.
"To meet the climate change challenge, the international community must strengthen confidence, build consensus, make vigorous efforts and enhance co-operation," China's Premier Wen Jiabao told delegates.
He added that in addressing climate change, the international community must not "turn a blind eye to historical responsibilities, per capita emissions and different levels of development."
After their speeches, Obama and the Chinese premier discussed the issue in one-on-one talks, a development the White House described as a "step forward."