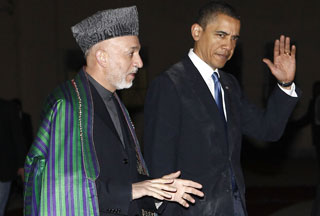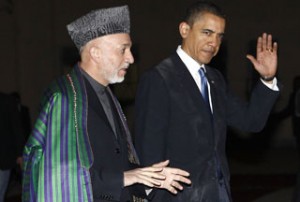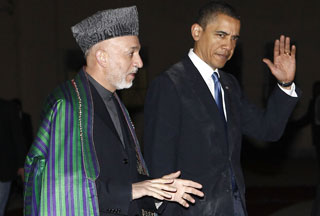 US president is in Afghanistan on his first trip as president to a country where tens of thousands of US troops are being deployed this year.
US President Barack Obama arrived at Bagram airfield, the US airbase north of the capital, early Sunday morning.
Obama held a meeting with Afghan President Hamid Karzai in the presidential palace after holding talks with Gen. Stanley McChrystal, the commander of Western forces in Afghanistan, and US Ambassador Karl Eikenberry at the base.
Obama is also due to meet with Afghan cabinet members and American troops in the country.
Despite clibmig US casualties in 2009, Obama has ordered the deployment of an extra 30,000 troops to Afghanistan.
The number of US troops killed in Afghanistan has roughly doubled in the first quarter of 2010 compared with the same period last year.
According to Pentagon figures, some 77 American service members have been killed so far in 2010, the Associated Press reported on Saturday.