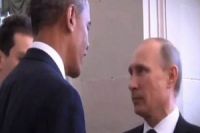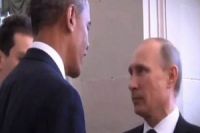 US President Barack Obama has held an "informal conversation" with his Russian counterpart Vladimir Putin during the 70th anniversary of D-Day in France.
According to Press TV, although the two leaders ignored each other at the group photograph, the White House said they speak "for 10 to 15 minutes" once they went inside for the luncheon.
The United States and Russia are at loggerheads over the current situation in Ukraine.
Obama's assistant Ben Rhodes said, "President Obama and President Putin did speak with each other on the margins of the leaders lunch," adding, "It was an informal conversation – not a formal bilateral meeting."
A White House official on Friday afternoon confirmed the meeting.