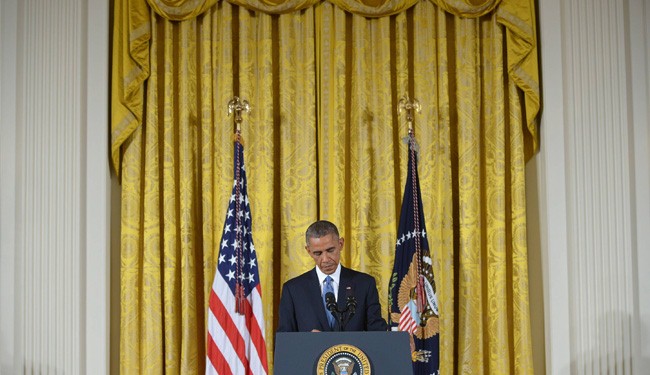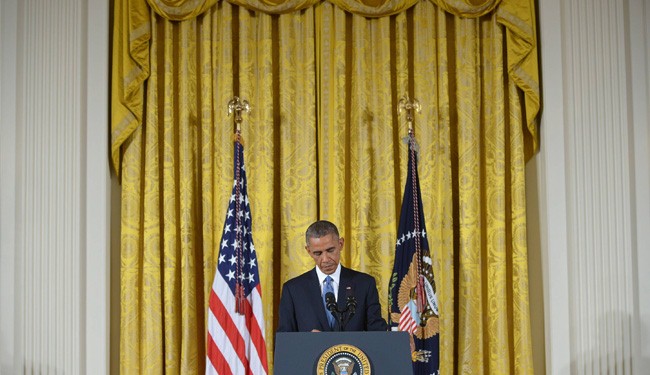 President Barack Obama said Wednesday he would work with Congress on new war powers to fight ISIS terrorists and expressed "cautious optimism" about whether the international community can reach a deal on Tehran's nuclear program — two issues that could prove harder for the White House to maneuver with Republicans in charge on Capitol Hill.
Obama spoke at a news conference the day after his party was thrashed by Republicans in elections, leaving the Republicans soon to be in charge of both the House and the Senate.
When he approved U.S. airstrikes in late September against extremists who have captured territory across Syria and Iraq, Obama used legal grounds of congressional authorizations that President George W. Bush relied on more than a decade ago.
The White House maintained then that the Bush-era congressional authorizations for the war on al-Qaida and the Iraq invasion gave Obama authority to act without new approval by Congress under the 1973 War Powers Act.
That law, passed during the Vietnam War, serves as a constitutional check on presidential power to declare war without congressional consent. It requires presidents to notify Congress within 48 hours of military action and limits the use of military forces to no more than 60 days unless Congress authorizes force or declares war.
Now, however, Obama said a new military authorization is one of a few areas where he will seek to work with lawmakers before a new Congress is seated in January.
He said he would update congressional leaders about the fight against IS during meetings on Friday. He said he wanted to start now to craft new authorization, but that completing it could carry over into next year when a new Congress will usher in Republican control of the Senate.
In September, during a heated congressional debate over training what US calling "moderate Syrian rebels", House Speaker John Boehner, a Republican said a new authorization was something that lawmakers should consider… But the vote should wait until next year.
Rep. Adam Schiff, a Democrat and a member of the House Intelligence Committee, on Wednesday called on Boehner to schedule a vote on a new authorization before the current Congress draws to a close.
In a letter to the House speaker, Schiff said no president has the power to commit its citizens to war without Congress, insisting it was "not a decision that can or should wait until 2015."
On Iran, Obama said it was an "open question" as to whether international negotiators and Iran can reach a deal over Tehran's nuclear program. With a Nov. 24 deadline looming, Obama said the next three to four weeks will be key.
Many Republican leaders have criticized the administration's desire to ease sanctions on Iran while the talks are underway, or to embrace any agreement that would allow Tehran to continue generating nuclear power.
The upcoming deadline, therefore, could represent the last chance the White House will get at reaching a comprehensive agreement with Iran. Iran says its nuclear program is for civilian applications.
"Whether we can actually get a deal done, we're going to have to find out over the next three to four weeks," Obama said.
In Paris on Wednesday, Secretary of State John Kerry dismissed questions about whether the Republicans' command of Congress would derail the nuclear deal. He said the same sticking points would remain no matter which U.S. political party was in power. "I don't believe that changes either side," he said.
US President Barack Obama said on Wednesday that he has heard the message from voters who put Republicans in power in the US Senate and extended their majority in the House of Representatives.
The president said the Republican victories are a sign they want Washington "to get the job done."
Tuesday's vote gives Republicans momentum heading into the 2016 presidential race, which becomes the focus of American politics for the next two years. At issue now is whether Obama, congressional Democrats and the newly robust Republican majorities will be able to break the partisan fighting and legislative inaction that has gripped the U.S. capital in recent years.
Senator McConnell, now the Minority Leader of the Senate, is expected to become the Majority Leader when the new Congress is sworn-in in January, said voters in the wake of the midterm elections in the U.S. expect newly empowered Republicans and the Democratic White House to find common ground for fast action.
McConnell says he doesn't expect Obama to agree with everything the GOP-led Senate instigates and said he expects some of the Republican ideas will draw a veto from Obama.
President Barack Obama and the incoming Republican Senate majority leader pledged Wednesday to find common ground and try to overcome Washington's chronic gridlock, while also warning of inevitable conflicts a day after sweeping Republican gains in midterm elections.
"I think what the voters were saying yesterday was a couple of things. Number one, they're obviously not satisfied with the direction of the administration, but at the same time I heard a lot of discussion about the dysfunction in Washington. I think there are a lot of people who believe that just because you have divided government, that doesn't mean you don't accomplish anything," said McConnell.
McConnell, the big winner of Tuesday's elections, said he spoke with Obama on Wednesday and says he looks forward to finding areas where Republicans and Democrats can agree.