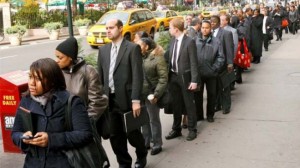 A business lobbying group in the US says ObamaCare's tax on health insurance providers will have a greater effect on private sector job loss than previously projected.
The National Foundation of Independent Business says the added burden of the health insurance tax (HIT) on businesses from the Affordable Care Act will mean 152,000-286,000 private sector jobs will be eliminated by 2023. According to the group, 57 percent of those jobs would be from small businesses.
"The HIT represents a new tax on small business that raises insurance costs for an already struggling Main Street and is contrary to the goals of health care reform," said Amanda Austin, NFIB director of federal public policy. "Singling out job creators for tax increases makes no sense for our economy, is short-sighted and wrong for our nation's growth."
Other recent studies, however, suggest ObamaCare will be a boon for businesses, especially larger businesses that are likely to save hundreds of billions by transferring employees from company health insurance plans to those provided in the ObamaCare healthcare exchanges.
Last year, the NFIB released a similar report that projected HIT would result in 146,000-262,000 jobs lost by 2022