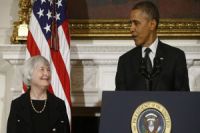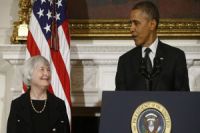 US President Barack Obama's pick to lead the Federal Reserve has said more work is needed to pull the US economy away from the 2008 economic crash.
Janet Yellen, 67, is an economist and professor who is currently the Fed's vice chairwoman. If confirmed by the Senate, she will become Obama's independent co-steward of the US economy for a four-year term as Bernanke's term will end on January 31.
Her nomination, announced Wednesday at the White House, follows a tense public selection process that forced Obama's initial choice, former Treasury Secretary Lawrence Summers, to withdraw his name after fierce opposition from a number of Democrats.
Yellen has long been seen as a much safer choice for Obama and she would be the first woman to lead the US central bank. She is close to current Fed Chairman Ben Bernanke and is likely to draw far less Senate opposition than Summers would have.
Her confirmation, however, is not certain.
Many Senate Republicans are likely to oppose Yellen over her support for the Fed's massive stimulus program in which it has purchased hundreds of billions of dollars in Treasury bonds and mortgage securities in an attempt to keep interest rates low and boost the economy. Many Republicans believe the practice results in a higher inflation rate and usurps fiscal authority that should rest with Congress.