Middle East
Palestine
Occupation regime israel won't celebrate a second centennial in occupied Palestine: Hamas chief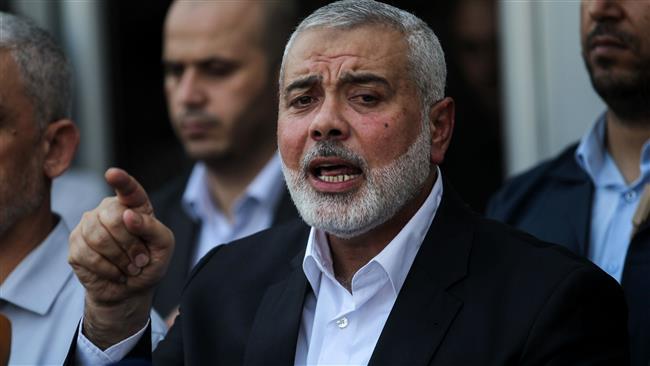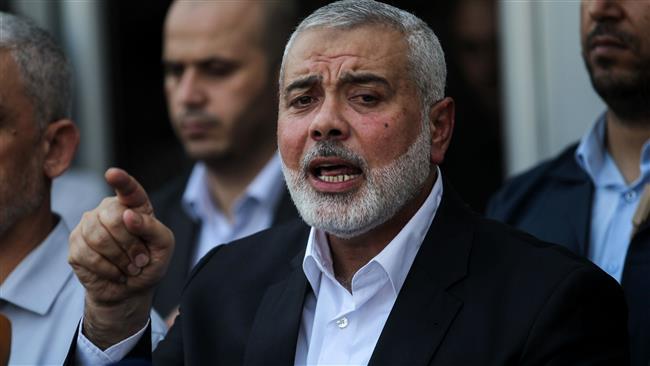 The israeli occupation of Palestine will not last for the regime to celebrate a second centennial of its creation, the Hamas leader tells an international conference on the Palestinian cause.
Delivering a speech to the international conference of resistance scholars in the Lebanese capital, Beirut, on Wednesday, Hamas chief Ismail Haniyeh said the Zionist project on the Palestinian territory had no future.
The comments come as the Israeli regime and its allies are celebrating the 100th anniversary of the UK-backed 1917 Balfour Declaration, which paved the way for the creation of the entity on Palestinian territories.
Haniyeh further slammed the declaration and said it could not distort historical and geographical realities.
The document issued in November 1917 by the then British foreign secretary Arthur Balfour said the UK government "views with favor the establishment in Palestine" of Israel.
It set the stage for the Nakba Day (the Day of Catastrophe) in 1948, when hundreds of thousands of Palestinians fled or were expelled from their homes by Israel.
Haniyeh further said the Palestinians based in the West Bank are still standing firm in pursuit of the nation's cause and would launch anti-Israel Intifadas (Uprisings) one after another, adding that the Gaza Strip has also turned into a symbol of resistance against the occupying regime.
The conference, title "True Promise: Palestine between Balfour Declaration and Divine Promise," began with a message sent by Leader of the Islamic Revolution Ayatollah Seyyed Ali Khamenei.
Ayatollah Khamenei calls on Islamic scholars to adopt diversified tactics in their struggles against the occupying regime of Israel.
Experts and scholars from 60 countries are taking part in the two-day event to discuss ways to support Palestinians across the world and stand against Israel's occupation and atrocities.
Additionally, Sheikh Naim Qassem, deputy secretary general of the Lebanese resistance movement Hezbollah, addressed the conference.
He described resistance as the only choice for the Palestinian nation, expressing hope that it would ultimately defeat the Zionist enemy.
Israel's life depends on murder, occupation, aggression and international support, he said, warning that if the regime begins a new war, all its facilities will be within the range of resistance missiles.