Palestine
Occupation regime snubs calls for independent investigation into Gaza deaths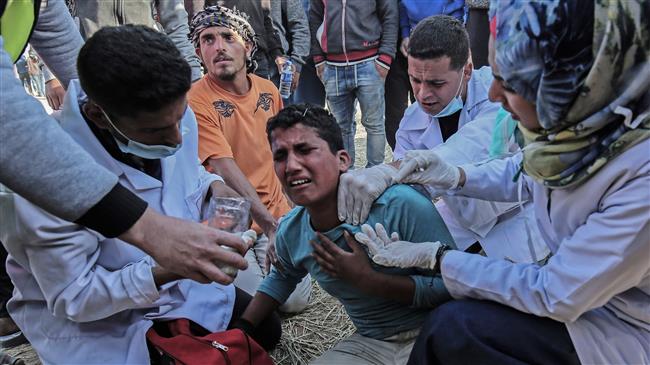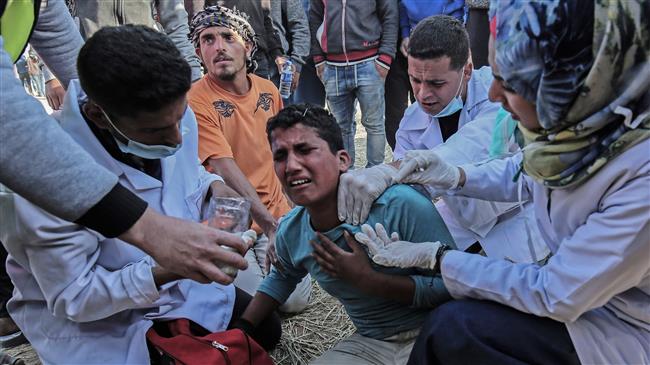 Israel has rejected calls for an independent investigation after the Tel Aviv regime's acts of aggression along the border fence with the Gaza Strip claimed the lives of at least 17 Palestinians and injured more than 1,400 others.
On Sunday, Israeli Prime Minister Benjamin Netanyahu praised soldiers' actions, while Minister for Military Affairs Avigdor Lieberman said the anti-occupation mass rallies in Gaza were not a "Woodstock festival."
Lieberman said calls for an independent investigation were hypocritical, rejecting such a probe.
"Israeli soldiers did what was necessary. I think all our soldiers deserve a medal," the hawkish Israeli official told Israel's public radio network.
"There will be no commission of inquiry. There will be no such thing here. We shall not cooperate with any commission of inquiry," he stated.
Netanyahu also hit back at Turkish President Recep Tayyip Erdogan after the latter sharply criticized Israel over "inhumane attack" in Gaza and deadly clashes in the besieged Palestinian coastal sliver.
"Hey Netanyahu! You are occupier. And it is as an occupier that are you are on those lands. At the same time, you are a terrorist," Erdogan later said in a televised speech in the southern Turkish city of Adana on Sunday.
UN Secretary-General Antonio Guterres has called for an independent investigation into bloodshed during the Palestinian demonstration at the Gaza-Israel border.
His appeal was echoed by Federica Mogherini, the European Union's foreign policy chief, Amnesty International, and Israel's left-wing opposition Meretz party Tamar Zandberg.
"The use of live ammunition should, in particular, be part of an independent and transparent investigation," Mogherini said in a statement on Saturday.
She added, "While Israel has the right to protect its borders, the use of force must be proportionate at all times."
The Palestinian rally, dubbed the "Great March of Return," will last until May 15, which coincides with the 70th anniversary of Nakba Day (Day of Catastrophe) on which Israel was created.
Every year on May 15, Palestinians all over the world hold demonstrations to commemorate Nakba Day, which marks the anniversary of the forcible eviction of hundreds of thousands of Palestinians from their homeland by Israelis in 1948.
More than 760,000 Palestinians – now estimated to number nearly five million with their descendants – were driven out of their homes on May 14, 1948.
Since 1948, the Israeli regime has denied Palestinian refugees the right to return, despite UN resolutions and international law that upholds people's right to return to their homelands.
This year's Land Day demonstrations appear especially combustible as Palestinian anger is already high over US President Donald Trump's decision in December 2017 to recognize Jerusalem al-Quds as Israel's "capital."
Israel occupied the West Bank, East Jerusalem al-Quds and parts of Syria's Golan Heights during the Six-Day War in 1967. It later annexed East Jerusalem al-Quds in a move not recognized by the international community.
Israel is required to withdraw from all the territories seized in the war under UN Security Council Resolution 242, adopted months after the Six-Day War, in November 1967, but the Tel Aviv regime has defied that piece of international law ever since.