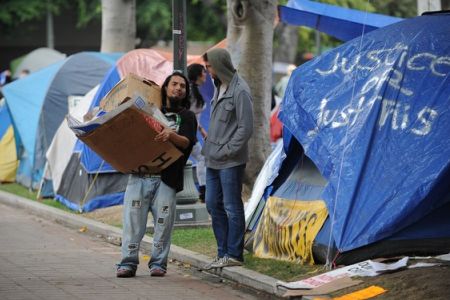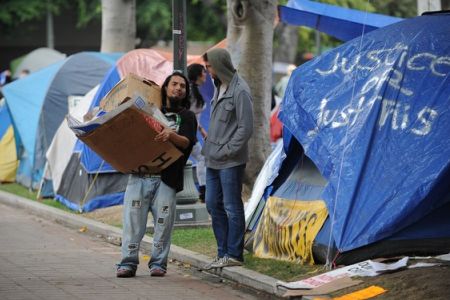 Occupy LA demonstrators are showing support for Oakland protesters' plan to hold a massive strike which will shut down the city for a day, Press TV reports.
In response to the last week's violent police raid, Oakland protesters have now planned a city-wide strike on Wednesday, a Press TV correspondent reported.
Last week, police attacked Occupy Oakland demonstrators and arrested more than 100 people.
Iraq war veteran Scott Olsen was also hospitalized with a fractured skull in the police attack.
Organizers planned a shutdown of the Port of Oakland, marching outside banks, corporations, foreclosed homes, schools and libraries.
Meanwhile in Los Angeles, Occupy protesters are ramping up awareness for a police raid that some believe is coming.
The Committee to Stop Police Brutality says it's possible that LA police will raid the City Hall encampment.
Los Angeles Police Chief Charlie Beck says that, although there is no immediate plan to remove the protesters, but they also cannot stay indefinitely.
The 'Occupy' movement, emerged after a group of people on September 17 rallied in New York's financial district under the name Occupy Wall Street, to protest against top-level corruption, poverty as well as social inequality in the US.
The protests have spread to different US cities as well as other countries.