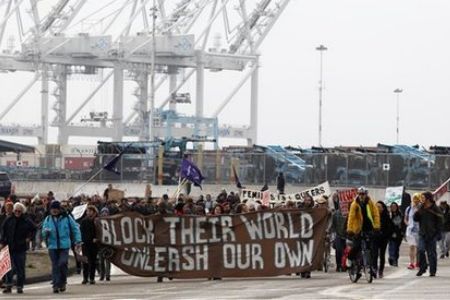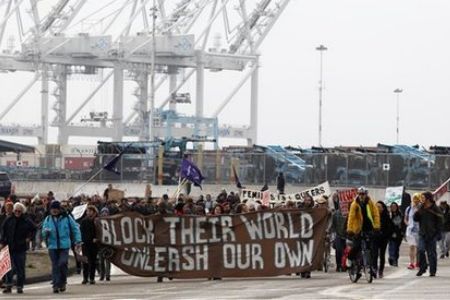 US 'Occupy' protesters have successfully shut down California's Oakland port, as the movement continues to gain strength across the country.
Protesters successfully blocked trucks arriving at the port of Oakland California on Monday, in an attempt to block the entrance of goods serving the capitalist class in the country, the Occupy California website reported.
Port workers were sent home following the shutdown.
The latest developments follow efforts by protesters to block several of the busiest West Coast ports.
Meanwhile, demonstrators severely disrupted traffic at ports in Los Angeles, Seattle, Houston, Portland, and Long Beach.
Protesters called the coordinated rallies a response to the dismantling of Occupy encampments by US police across the country.
Protests have been led by Iraq war veteran Scott Olsen, who sustained a head injury during an Occupy Oakland rally in October.
The Occupy Wall Street movement began when a group of demonstrators gathered in New York's financial district on September 17 to protest against the unjust distribution of wealth in the country and the excessive influence of big corporations on US policies.
Despite the police crackdown and mass arrests, the Occupy movement, which grew out of the Occupy Wall Street movement, has now spread to many major US cities as well as to Australia, Britain, Germany, Italy, Spain, Ireland, Portugal, and other countries.