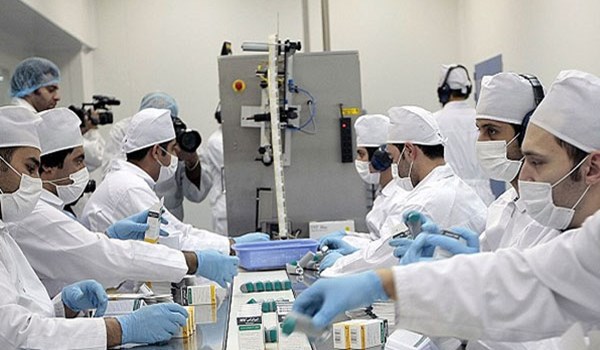 "From the 50 bio-economic medicine produced in the world, Iran owns the know-how for the production of 30 of them," Qaneyee said on Tuesday.
He also added that among the 18 human vaccines, Iran can produce 8 of them, noting, "8 human vaccines, 17 vaccines for livestock and poultry, 50 medical raw materials and 14 biological drugs will be produced in Iran by the yearend (March 19)."
Iran has taken long strides in producing different types of drugs and medical equipment.
In relevant remarks last Wednesday, Iranian Vice-President for Science and Technology Sorena Sattari underlined astonishing progress by the country's knowledge-based companies, saying that patients in the regional states were being treated with Iran-made biotechnological medicine now.
"Today, people in Russia, Turkey and other regional states are treated with Iranian anti-cancer and anti-inflammatory biotechnological drugs," Sattari said during a visit to the Innoprom exhibition in Russia.
He further pointed to one such instance of Iranian pioneering companies, and said the achievements of the firm which can treat 4 incurable diseases with the help of stem cells are unique in West Asia.
The vice-president stated that technologies to produce advanced equipment, including surgeon robots, linear accelerators, dosimetric devices, radiofrequency systems and diagnostic cyclotrons have all been developed by knowledge-based companies in Iran and rendering service to the medical sector.
Iran in June unveiled 7 new home-made knowledge-based products in a ceremony participated by Sattari and Health Minister Saeed Namaki.
"Today, I am pleased that we have unveiled 7 new knowledge-based products," Namaki told reporters.
"Fortunately, our scientists think of progress under the hard conditions of sanctions," he added, noting that the embargos have led the knowledge-based companies produce medicine and raw materials to manufacture drugs.
Iran had also last month unveiled 9 new indigenized medicine to treat depression, skin, blood and infertility problems as well as cancer.
The drugs were unveiled in a ceremony participated by Namaki in Alborz province near Tehran, and included they include hi-tech drugs to treat depression, male infertility, blood platelet adhesion, skin infections, skin diseases, advanced breast cancer, lung cancer and motor neuron diseases, and a medicine to stretch bone marrow tissue.
All the drugs have been produced based on the highest international standards using state-of-the-art technologies.
Also, last month, Sattari attended a ceremony to unveil 4 home-produced drugs for cancer and diabetes treatment.